Trade shows have long been an integral weapon in every marketer's arsenal, but what do exhibitors really think about them?
There is little industry-specific data regarding trade shows, that's why we surveyed 100 regular exhibitors on the positive and negative aspects on this form of marketing.
As you can see below, the survey revealed some interesting findings on both the popularity of trade shows and potential areas for improvement.
1. Factors when Choosing to Exhibit at a Trade Show
The quality of attendees was found to be the most important factor when choosing to exhibit at a trade show with 64% of respondents selecting it as the best reason to exhibit.
This was closely followed by the cost of the trade show (53%), with the trade show's industry (40%) and geographical location (38%) also being very important in the decision process.
The number of attendees (23%) was found to be less important, showing that exhibitors favour quality over quantity when it comes to who they meet at events.
The least influential factor when choosing to exhibit at a trade show was the exhibition venue (18%), although this is still sizeable enough to be considered an important factor.
Overall, it's clear that event organisers need to prioritise getting as many decision makers from prominent industries to their event in order to maximise their appeal.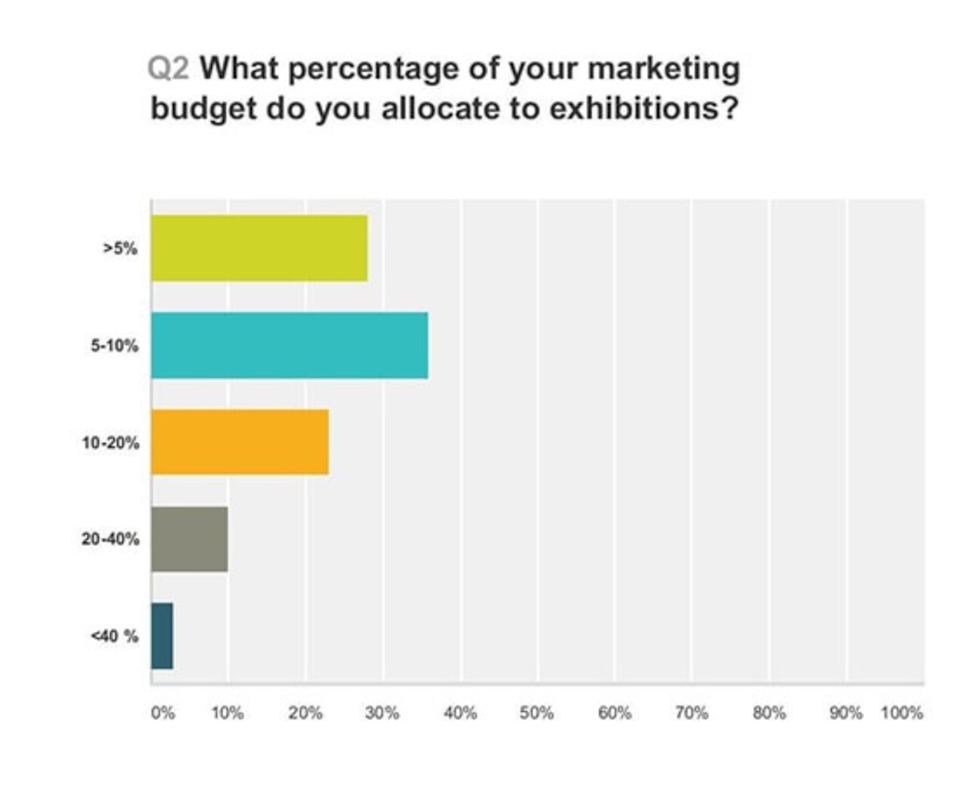 2. Marketing Budget Used for Trade Shows
The majority of respondents (36%) spent between 5-10% of their marketing budget on exhibitions, with a large portion (28%) spending less than 5%. This shows that despite their perceived cost, trade shows are still well behind digital marketing, direct mail and email marketing in terms of overall cost.
23% of respondents spent between 10 to 20% on exhibitions every year, whilst 10% of interviewees said they spent between 20-40% of their annual budget on exhibitions, showing that for some companies trade shows do take up a far larger portion of their annual budget.
Only 3% of respondents spent over 40% of their budget on trade shows.
This data reflects that a reasonable amount to be spent on trade shows for most exhibitors would be between 5% and 10% of your total marketing budget although 10-20% may be more likely for companies in industries where exhibitions are more important.
3. Getting Ready for a Trade Show
28% of respondents started preparing their marketing 1-2 months before their trade show, although a large amount (22%) also prepared 2-4 months before the show.
Only 3% of respondents leave it to the last minute (1-2 weeks before show), which leaves them little time to prepare their trade show display and other marketing material.
A fairly large portion of people surveyed prepared for the show 2-4 months before the event (22%), 4-6 months before (18%) and 6-12 months before the show (19%), which would be the recommended time for exhibitors requiring custom-built exhibition stands or other more elaborate displays.
It is definitely better to be well prepared for a trade show to take into account designing and printing your promotional material; organising transport and accommodation if required and making sure your sales staff are available; so it is worth preparing 2-4 months before the show if you require a portable display stand and 6-12 months if you require a custom-built stand or large-scale exhibition stand.
4. Following up Trade Show Leads
A trade show's success depends on how your leads are followed up, so knowing the best way to contact people who visited your stand is very important.
81% of respondents said they use email to follow up their leads, with 68% reporting that they contact their leads by phone. The high percentage of each of these answers suggests that exhibitors are blending these two methods, using both the blanket approach of email and more personal phone call to discuss specific requirements.
Meeting the contact face-to-face was also a popular method of following up leads (42%), with social media (27%) and direct mail (25%), also proving to be useful methods of getting in touch with a lead.
With only 1% of respondents saying they don't follow up leads, it's good to see the majority of exhibitors are taking this process seriously.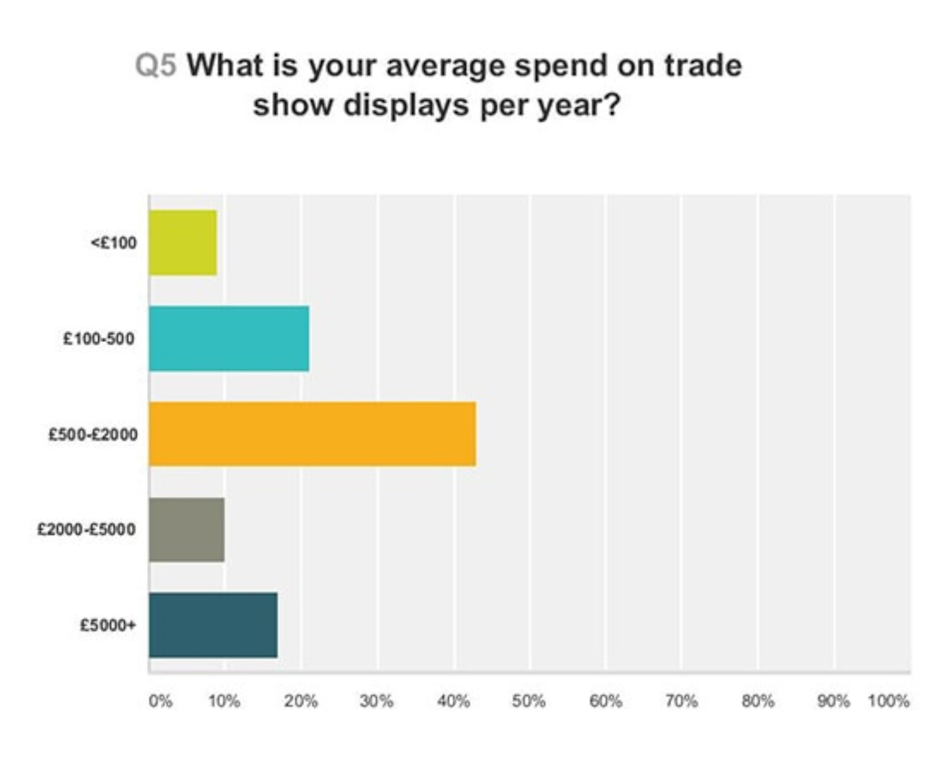 5. Trade Show Display Stand Expenses
43% of respondents said they spend between £500 and £2000 annually on their display stands, with a large portion (21%) only spending between £100 and £500, which would account for printed display stands to fit inside shell scheme exhibits.
The cost of trade show displays varies greatly depending on the exhibitor's space size and intended impact at the show which is shown by the fact that 9% of respondents spent less than £100 contrasted to 10% who spent between £2000 -£5000 and 17% who spent over £5000.
Interpreting these results, it's worth bearing in mind a budget of £100 - £2000 for printed display stands, with £5000+ for custom-built exhibition stands for hire.
6. The Future of Trade Shows
In a boost for the outlook of the industry, 75% of respondents predicted a positive future for trade shows, with only 25% envisioning a negative outlook.
The reasons people gave for the positive outlook for trade shows were mainly based around the importance of face-to-face communication. Other reasons given for optimism were the ability to generate brand awareness; the importance of getting the industry together; and the ability to promote new products and ability to generate a positive ROI (return-on-investment).
The main reasons people predicted a negative outlook was that trade shows are becoming less relevant as more and more business is being conducted online, with the high cost of exhibiting and the unwillingness of some event organisers to embrace new technology also being cited.
Overall, it's exciting for the industry that the majority of respondents were positive about the future of this form of marketing, although it's clear that event organisers need to embrace new technology and offer good value for money to keep exhibitors satisfied.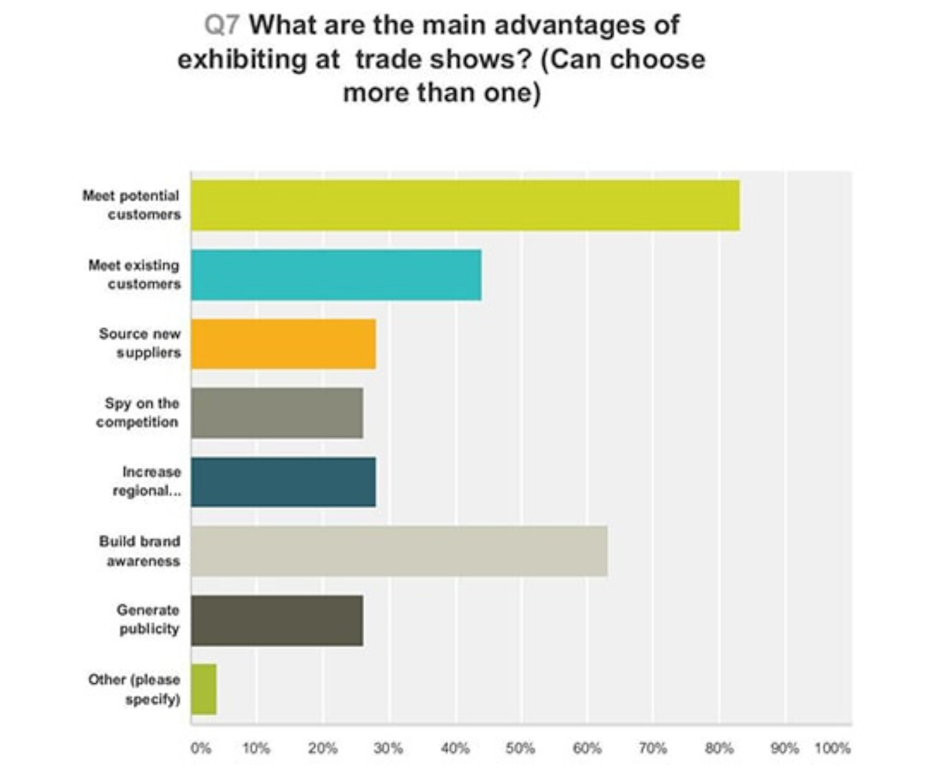 7. Advantages of Exhibiting at Trade Shows
It's no surprise that a massive 83% of respondents chose meeting potential customers as one of the main advantages of exhibiting at trade shows.
63% of respondents suggested that building brand awareness was beneficial reflecting the longer term benefits of exhibiting at trade shows.
44% of those surveyed suggested that meeting existing customers was one of the main advantages of exhibiting, showing how trade shows can help develop more personal client relationships.
28% of respondents chose sourcing new suppliers and the same amount picked increasing regional business as being beneficial, whilst 26% of exhibitors thought that generating publicity and spying on the competition were advantageous.
Analysing the results, it's clear that the ability to generate new business by meeting people is the main reason people choose to exhibit. However, it's also clear that people see longer term benefits of exhibiting with building brand awareness and meeting existing customers also of paramount importance.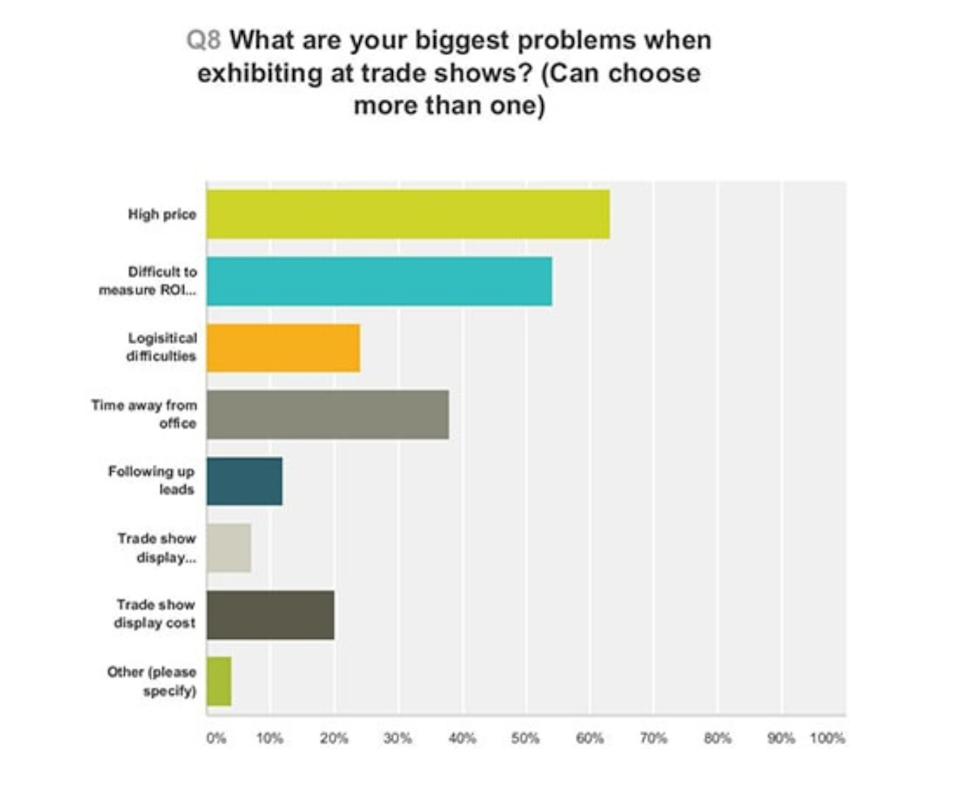 8. Issues with Exhibiting at Trade Shows
The biggest problems exhibitors had with trade shows all related to cost: the two biggest problems chosen being the high price of exhibiting (63%) and difficulty in measuring ROI (54%). Furthermore, 20% of respondents chose the cost of trade show displays as one of their biggest problems.
Other issues with exhibiting at trade shows included time away from the office (38%); logistical difficulties (24%); following up leads (12%); with a small number also having an issue with assembling their exhibition stand (7%).
With the main issues for exhibitors relating to cost, it's  clear that event organisers need to encourage exhibitors to follow up their leads correctly to generate a positive ROI. Often a trade show may seem expensive but it's up to event organisers to communicate less obvious benefits of trade shows to their exhibitors such as increased brand awareness and developing long-term customer relationships.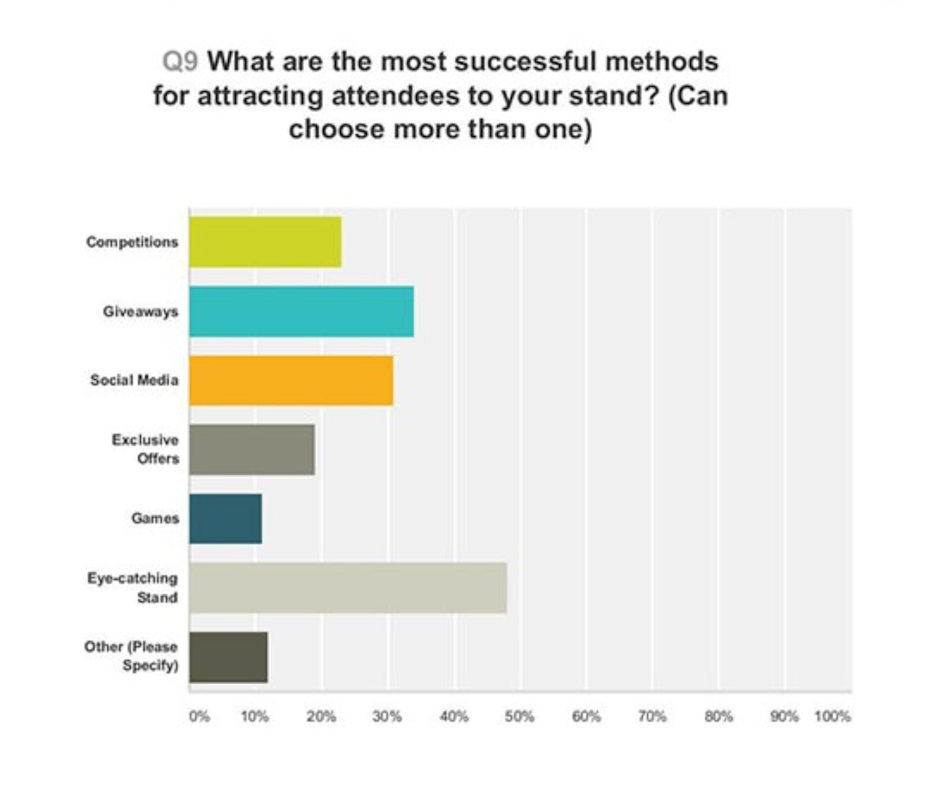 9. Most Successful Methods for Attracting Attendees
The most successful method for attracting attendees was having an eye-catching exhibition stand with 48% of respondents choosing this as one way they increase footfall.
Giveaways (34%) and social media (31%) were also popular ways of attracting attendees, with competitions (23%), exclusive offers (19%) and games (11%) completing the mix.
A fairly high portion of respondents (12%) selected 'other' means for this question, with some of the most popular answers being: becoming a speaker at the event; pre-show social media; and contacting an existor customer database.
Whilst there is no 'one size fits all' approach to attracting attendees, it's clear that having an eye-catching stand is an integral part of your in-show marketing. In addition to this, giving attendees another reason to visit such as a giveaway, exclusive competition or show offer is clearly perceived as being successful.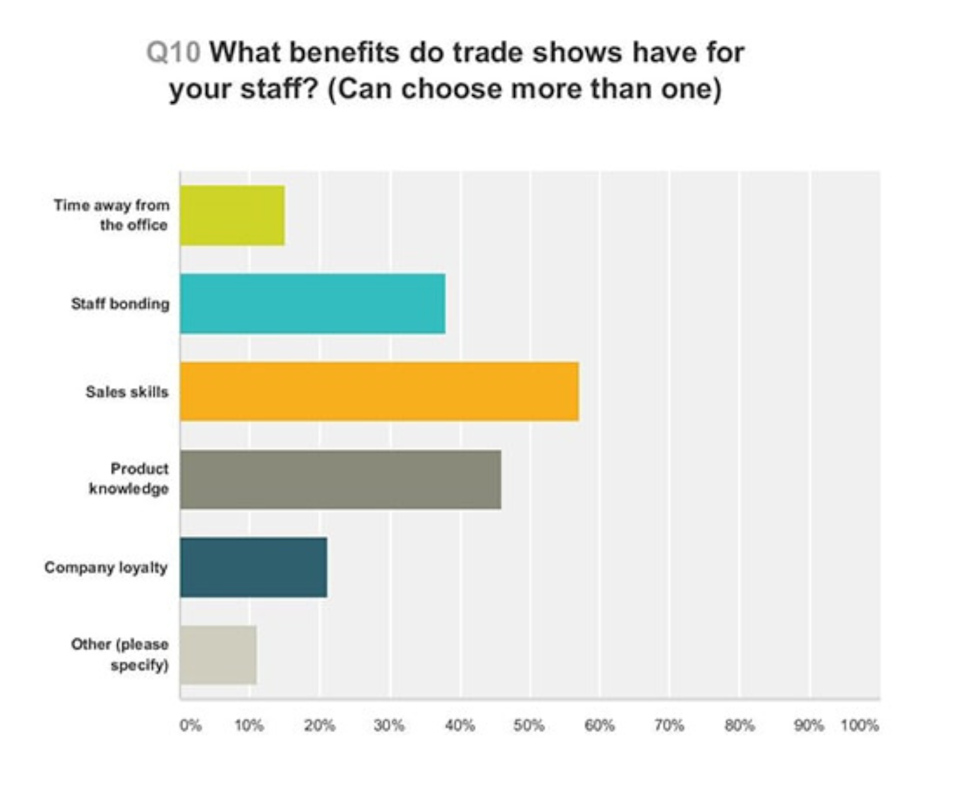 10. Staff Benefits for Trade Shows
57% of respondents said that their staff's sales skills benefited from exhibiting at a trade show, representing the positive aspects of selling face-to-face. Along with this, interviewees selected product knowledge (46%) as a benefit, showing how hands-on experience demonstrating a product can be advantageous in the longer term for trade show staff.
There were also a number of other benefits for staff with 38% of respondents choosing staff bonding as a perk; 21% choosing company loyaltyl; and 15% selecting time away from the office.
11% of respondents also selected 'other' as an answer, with many people highlighting the industry knowledge their staff gain at trade shows, such as through seminars and workshops at the event.
To summarise, it's clear that there are a large number of benefits for trade show staff mainly relating to developing their sales skills, but also helping them to feel more loyal and connected with the company.
Final Takeaways
It's clear that most exhibitors we surveyed were satisfied with the benefits of trade shows with 75% of respondents saying they see a positive future for this form of marketing, whilst we received lots of positive feedback in terms of reasons to exhibit even in an increasingly digital age.
Whilst this is true, there are still a number of issues that could be preventing trade shows from being even more popular namely the perceived high cost and failure to integrate more technology. It is also clear that event organisers need to communicate more of the longer term benefits of trade shows such as brand exposure and developing long-lasting customer relationships as these are highly valued by exhibitors.
Methodology
This survey was carried out in April - May 2017 and included 100 marketing/sales professionals who regularly exhibit at trade shows.
The survey was conducted using SurveyMonkey and distributed via email to the Display Wizard customer database as well as conducted at various trade shows during 2017.
For any questions about the survey or to feature the data on your site, please email marketing@displaywizard.co.uk or call 01995 6006633.