Banner Stands
Enhance the visibility of your organisation with our vibrant custom-printed banner stands. The ideal portable display stand for trade shows or other promotional uses.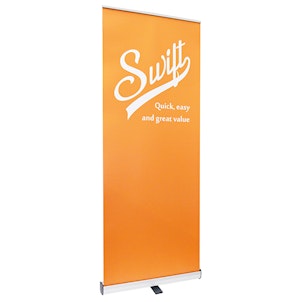 From £9
From £109
From £202
From £112
From £182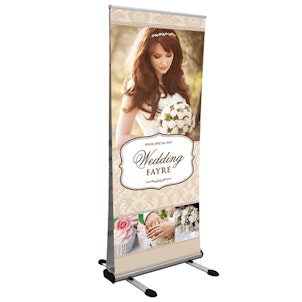 From £109
Need a speedy turnaround?
No problem!
If you need a quick turnaround on your order call 01995 606633 to discuss your options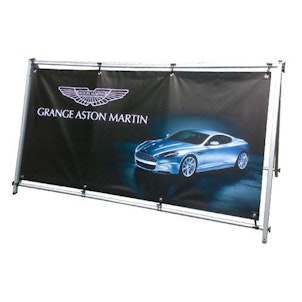 From £24
From £119
Frequently asked questions
What are Banner Stands?
Banner stands are printed display stands that are compact, highly portable and easy to use. The base displays the eye-catching graphic of your choice and can be used anywhere.
A banner stand is the perfect solution for anyone needing high-quality, appealing exhibition equipment to promote their company. They can boost your marketing efforts by providing a striking and professional image for your brand inside your establishment or even on-the-move at a trade show or exhibition.
What are the standard sizes for banner stands?
Our versatile and cost-effective banner stands are available in multiple sizes from standard 800mm, ideal for an exhibition banner, to super-wide 2400mm large format banner displays.
Our banners have a maximum height of just over 2m. As a result, they're suitable for any venue, even those with a maximum height restriction of 2.5m.
How do you assemble a banner stand?
One of the reasons our banner stands are popular is because they're simple to put up quickly at events. Each banner comes in its own storage bag with easy-to-assemble pieces.
Start by removing the pieces from the bag and locking the feet firmly into place. Then slot your graphics in place and secure. Then repeat the process for a double-sided banner stand. Additionally, we provide assembly videos on every product page.
How much does a banner stand cost?
Banner stands pricing starts at just £39 for a 800mm Swift banner, ideal for exhibition banner displays. In addition, the hook-and-loop fastener-friendly fabric expands your range of display options.
Each banner is supplied with a carry case plus your choice of vibrant graphic. Our fabric banner stands are also seamless and fold easily for storage and transport.
Our banner stands offer the best balance of quality and cost-effectiveness to maximise your ROI. 
Where are your banner stands printed?
At Display Wizard, all our printing is completed in-house with cutting-edge HD printers. In addition, we only use durable and high-quality fabrics and inks, so your graphics stand the test of time.
Most banner stands are printed using LED UV technology on light-block 420gsm anti-curl polyester. As a result, our eye-catching graphics will impress time after time.
Display Wizard are based in Lancashire in the North West of England but supply banner displays for the whole of the UK, regularly supplying solutions for events at the NEC in Birmingham, Olympia in London, Event City in Manchester and many more. Our customers - ranging across the private and public sector - are always happy with our competitive pricing, excellent customer service and high-quality print materials.
What is the turnaround time for banner stands?
From artwork approval to the finished product generally takes 3-5 working days. In addition, next-day dispatch is available to the UK Mainland, and the first possible despatch dates are displayed on the product page.
However, if you need your banner displays and stands faster, contact us, and we'll be happy to try and speed up your order.
How sustainable are your banner stands?
At Display Wizard, we recognise the effort businesses are making to become more sustainable. That's why we've worked hard to reduce the environmental impact of our banner stands.
We only use water-based inks and PVC and solvent-free materials for our display banners, minimising the effects on the environment.
What artwork do I need for banner stands?
To make the process straightforward, we offer two options.
Our professional in-house graphic design service works with you to produce artwork that meets your branding requirements.
Otherwise, we provide templates for your own artwork, which can be downloaded from the information section of our website. To find out more, visit our supply artwork page.
What are the advantages of using banner stands?
Our banner stands are a fantastic option for exhibition banner displays, outdoor events, and more. They're perfect for trade shows, reception areas, restaurants, schools, sports arenas, and anywhere you want to create an eye-catching display.
Some of the main advantages of our banner stands are:
Easy to transport.

Range of sizes to help your displays stand out.

Vibrant, high-quality graphics printed in-house using state-of-the-art technology.

Fast turnaround and next-day dispatch to the UK Mainland. Bespoke design

Simply assembled

Quantity discount available for multiple purchases

Height makes you stand out in a competitive environment
Why use Display Wizard for your banner stands?
At Display Wizard, we're one of the UK's leading suppliers of banner stands, with over 15 years of experience in the industry. And our in-house team can help you maximise your ROI with outstanding designs to boost your brand. Other advantages of working with Display Wizard include:
Competitive pricing.

Cutting-edge UV print technology.

Durable, high-quality materials.

Exceptional, long-lasting graphics.

Helpful customer service.
Because Display Wizard do all of our graphic design and banner printing in-house so we can guarantee your logo and graphics will be presented in the best possible way in your exhibition booth.
Whilst offering cheap pricing, all our banners are a solid investment as they all come with an absolute minimum one-year guarantee on the hardware, with many products carrying a lifetime guarantee.