The UK holds some of the biggest and best trade shows in the world and has some world-class venues for hosting these events.
We have put together an annotated map of the UK's top exhibition venues for you to find the best venue for your next show.
Take a look at the map below and let us know which your favourite exhibition venue is in the country. We have more deatiled info on each of these venues listed below the image!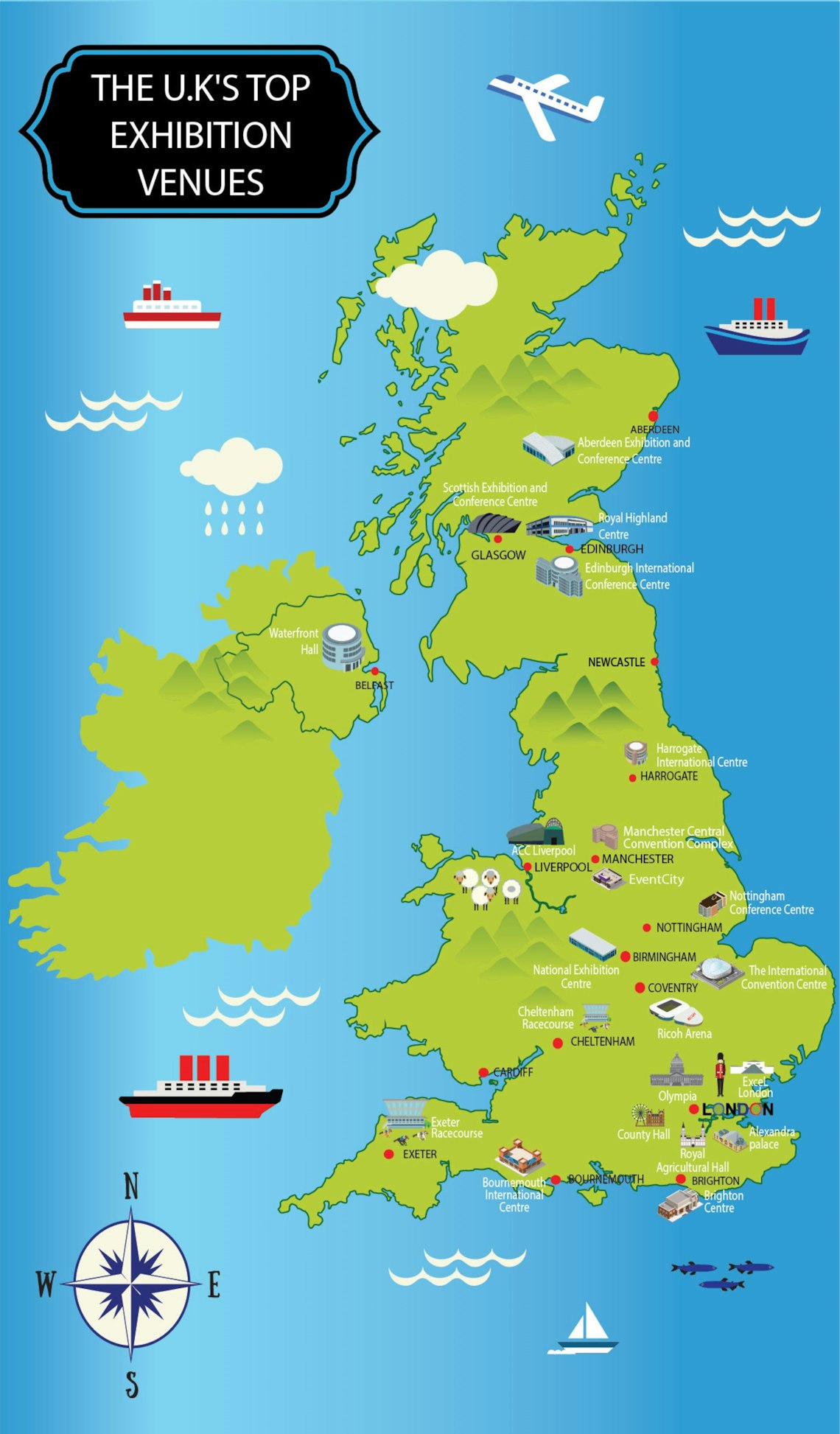 Share this Image On Your Site
Feel free to share this map on your site using the embed code below. Please include a link referencing https://www.displaywizard.co.uk when you post this.
More Information on UK Event Venues
The UK has some of the best exhibition and trade show venues in Europe. We have compiled a list of the best exhibition venues nationwide.
- Aberdeen
Aberdeen Exhibition and Conference Centre
Host your event in style at this premier Scottish venue. Opened in 1985 and fully refurbished in 2003, this venue boasts a 5,000 seat arena, hotel and multiple event facilities to make your event shine.

- Belfast
Waterfront Hall
Comprising three top-class venues, this multifunctional site hosts concerts, events and conferences at the purpose-built ICC Belfast. Facilities include the 2,200 seat auditorium and two interconnecting multipurpose halls.

- Birmingham
The National Exhibition Centre (NEC)
One of the most iconic exhibition centres in the UK, the NEC has hosted thousands of events since opening in 1976. The 20 exhibition halls make this the biggest venue in the UK, and the centre has excellent transport links.

The International Convention Centre
This eye-catching venue has an enviable central location making it a good fit for your event. Opened in 1991, the unique design links ten separate halls, the largest capable of accommodating 3,000 people.

- Bournemouth
Bournemouth International Centre
The multipurpose BIC opened in 1994 and has hosted thousands of trade fairs and charity events. There are four halls, and the BIC holds up to 10,000 guests, making it a cultural hub in the area.

- Brighton
The Brighton Centre
With a dominant position on the busy seafront, the Brighton Centre holds up to 5,000 people. Surrounded by hotels and minutes from the city centre and station, the venue is equipped with the latest technology.

- Cheltenham
Cheltenham Racecourse
Boasting world-class facilities, Cheltenham is a sophisticated choice of venue with flexible indoor and outdoor space.

- Coventry
Coventry Building Society Arena
With its central and accessible location, this is a world-class exhibition and conference centre, thanks to a massive refurbishment for the 2022 Commonwealth Games. The state of the art centre delivers advanced connectivity over 7500 sqm of space.

- Edinburgh
Edinburgh International Conference Centre
Located in the west of the city, this purpose-built venue opened in 1995, combining spaciousness, comfort and style. Hosting around 200,000 delegates every year, this premiere location offers a wide range of services to help your event run smoothly.

Royal Highland Centre
Close to Edinburgh Airport, this iconic venue opened in 1960 and now welcomes over one million visitors a year to the refurbished space. Four event halls and an outdoor theatre make this a flexible and exciting venue.

- Exeter
Exeter Racecourse
This well-established exhibition centre boasts multipurpose space for all your events and trade shows, including the multi-million extension to the Haldon Stand.

- Glasgow
Scottish Exhibition and Conference Centre
The SECC sits on the Clyde riverfront in Glasgow and has its own railway station. Since 1979, this modern venue has expanded to accommodate a diverse range of events thanks to its award-winning conference facilities, including an on-site hotel.

- Harrogate
Harrogate International Centre
A blend of modern facilities and Edwardian charm, this Harrogate centre is the third-largest in the UK. The HIC hosts concerts and trade shows in its 2,000 seat auditorium and ten exhibition halls.

- Liverpool
ACC Liverpool
This outstanding centre stands on Liverpool's iconic waterfront. Part of a complex including the M&S Bank Arena and the Exhibition Centre Liverpool, this fully integrated multifunctional space can host any type of event from concerts to trade shows.

- London
Alexandra Palace
Located between Wood Green and Muswell Hill, this much-loved venue dates back to the 19th century. Ally Pally is home to concerts, festivals, trade shows and more and is one of London's most exciting venues.

Earl's Court
The capital's premier exhibition venue, Earl's Court London is famed for its iconic Art Deco design. Spread over two venues, this iconic centre has played host to events including the Brits and the Olympics and leads the way for exhibition venues worldwide.

Excel London
Opened in 2000, Excel is a relative newcomer to the London scene. However, its location on the Royal Victoria Dock and cavernous exhibition halls has seen it gain rapidly in popularity as a trade show venue. Comprising three large-scale function halls plus hotels, cafes and restaurants, the Excel provides a complete exhibition experience.

Olympia
Originally opening in 1886, Olympia continues to be one of the premier locations in the London event calendar. Covering four event halls and a conference centre, Olympia also has its own tube station and excellent transport links to the city centre.

- Manchester
EventCity
This unique exhibition space opened in 1995 and is the second-largest event venue outside London. EventCity has already played host to a wide range of impressive events and is an excellent showcase for any trade show.

Manchester Central
Once known as the G-Mex, this 1880s railway station was fully renovated in 200 to create a world-class events and conference centre. This centre can accommodate any event or trade show with excellent facilities nearby including hotels and transport links.

- Nottingham
Nottingham Conference Centre
The NCC has been one of the Midlands' premier events destinations since it opened in 2010. This multipurpose venue can accommodate all your needs, from large-scale trade events to conferences and exhibitions.