Poster Frames
We can help you display your posters in a professional manner with our extensive range of poster frames. Whether you require a simple poster snap frame or a freestanding poster frame, we are bound to have the right solution for you.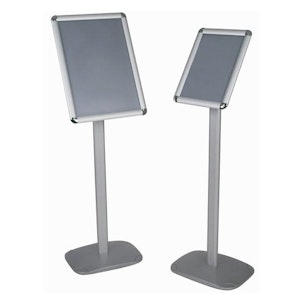 From £29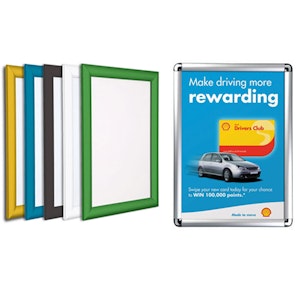 From £3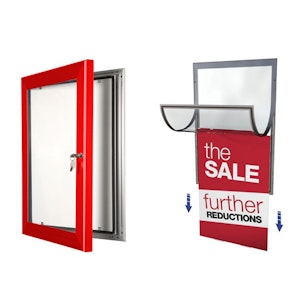 From £43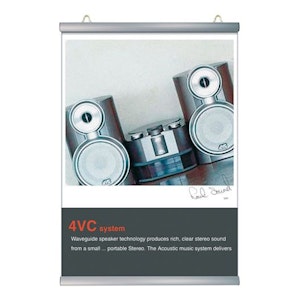 From £4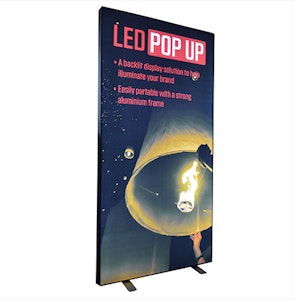 From £69
Need a speedy turnaround?
No problem!
If you need a quick turnaround on your order call 01995 606633 to discuss your options
Frequently asked questions
What are Poster Frames?
Poster frames are displays to protect and enhance posters, graphics or artwork. They differ from picture frames in that they are easy to change the poster, helping to keep visitors updated with useful info and updates.
They are popular amongst businesses wanting to promote a sale or display documentation, as well as for schools, libraries and churches.
What types of Poster Frame are Available?
Our poster snap frames allow you to quickly and easily change the poster due to their unique 'snap' frame.
Our poster display rails display the poster using rails which attach to the top and bottom of the poster.
We also offer a number of freestanding poster frames which don't need to be wall-mounted and look great in reception areas or even for use at trade shows.
Alongside these displays, we also offer a number of poster and menu cases which are a great way to house your poster more securely.
Our range of notice boards are great for easily posting messages without the need for any printing.
What are the Benefits of using Poster Frames?
A poster frame is a low cost solution for displaying information or advertising clearly and effectively. Posters can be easily switched out meaning you can update your message regularly.
Most of these displays are eligible for next working day delivery to UK mainland addresses if ordered before 2pm. Please check the individual product lead time for more info.
These poster holders come with discounts if bought in bulk. Please check the individual product for exact amounts.
Advantages
·         Lockable frames available
·         Hold poster taut
·         Quick and easy poster change
·         Tamper-resistant
·         Affordable, prices start at just £3 a frame
·         Next working day delivery on all stock items if you order before 2pm
What are some Common Uses of Poster Frames?
Poster frames have been designed for quick and easy poster or graphic changes, making them ideal for events such as trade shows as well as in retail spaces where messaging needs to be updating regularly.
There are different types of frame depending on their usage with freestanding versions, menu cases, backlit versions and notice boards.
Other common uses of poster frames include:
·         Display certificates on wall
·         Hang health and safety documentation
·         Perfect for reception areas
·         Display signs in retail stores
·         Information points
·         Special offer promotion
·         Display personal picture
What Sizes of Poster Frame are available?
When selecting a poster frame, it's crucial to consider the frame size in relation to the poster you want to display. Most poster frames are designed to fit standard UK poster sizes like A4, A3, A2, A1, A0, B2, B1, B0, 20" x 30", 30" x 40" and 40" x 60" – we have a guide on UK poster sizes here if you are unsure. You can use the filter on our product categories to only show poster frames in the widths you desire.
Please be aware to consider the width of the frame when designing your artwork as around 10mm may be obstructed by the frame itself.
Are your Poster Frames Secure?
Several of the frames are lockable, meaning they are safe from being tampered with, even if left outdoors. They may also be used for personal pictures, helping to protect and display pictures inside your home.
If you are concerned about people tampering with your posters, we have a range of extra secure poster frames which are locked and opened using a hand-held opening tool. Just look for any frame labelled 'lockable' or 'extra secure'.
What Colours do your Poster Frames Come in?
When it comes to the available colours for poster frames, there is a wide range of options to choose from. We have standard primary colours and a wider selection for our premium frames coming in colours such as gold and silver.
Can you Print the Posters?
As specialist large printers, Display Wizard can supply high-quality posters to fit your chosen size of frame if required.
We also have an in-house graphic design team who can assist with designing your posters if needed. They will work closely with you making revisions until you are happy and ready to go to print.
How Quickly Can your Poster Frames Be Delivered?
We keep a wide range of poster frames in stock for next working day or Saturday delivery with exact lead times on the product page. Standard delivery is by courier and takes 3 – 5 working days. Prices vary depending on the delivery option chosen.
How do you Assemble a Poster Frame?
All our poster frames are easy to assemble, with snap frames having a simple open and close mechanism. Other models have assembly instructions included. If you have any difficulties, please don't hesitate to get in touch with our customer service team.
Why Choose Display Wizard for your Poster Frames?
As leading experts in display marketing solutions, Display Wizard offer a vast collection of poster frames to use in a variety of locations including at events, retail and educational spaces.
Most of our range of poster display frames are available for next-day UK mainland delivery if ordered before 2pm.
As large format printers with an in-house design team we are also able to design and print the posters for your display.