Having an ironclad sales strategy is half of trade show marketing success. The other half, and the part that's responsible for attracting people to your trade show exhibit in the first place, is creating an alluring and irresistible trade show stand.
Most businesses put together their trade show stand using the same sales copy and design elements that go into their brochures and direct mail campaigns. The result is a sea of generic stands at most trade shows that read like a sales letter instead of an invitation.
Your trade show stand doesn't need to convince prospective customers to buy what you're selling – that's your sales team's job. Instead, it needs to be a powerful and irresistible message that gets prospects to step into your stand and ask questions.
In this section, you'll learn how to design and create an irresistible trade show stand that uses your business's qualities and your sales team's knowledge to bring in new business en masse.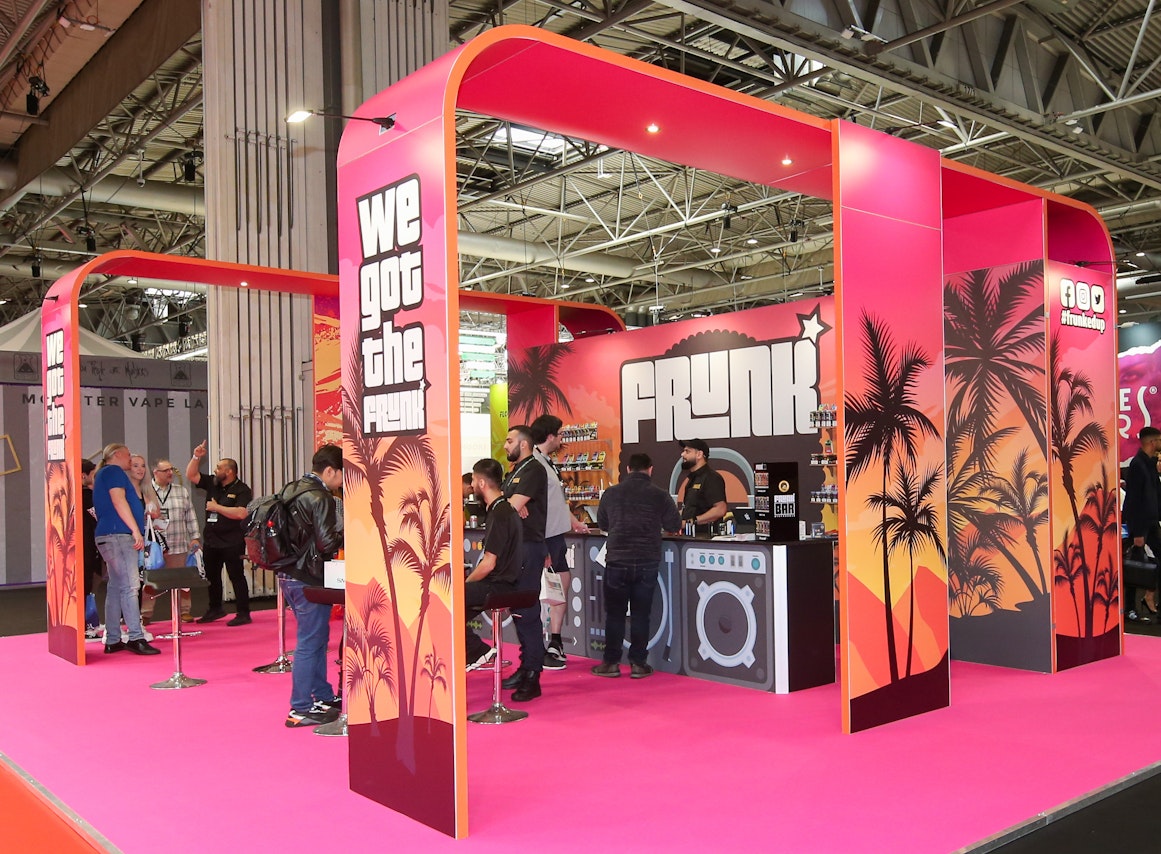 Great trade show stands aren't built overnight
If you leave the process of designing your trade show stand to the last minute, you'll end up with a forgettable exhibition. Why? Because even a great trade show stand is worth very little when it isn't designed as part of your overall marketing message.
In an article for Entrepreneurship.org, communications expert Joanna L. Krotz tells marketers that trade shows require an overall strategy. This means designing your trade show stand to be one of many parts in your marketing machine, not a tool that exists in isolation.
Start planning your trade show stand as soon as you begin planning your exhibit as a whole. This way, you won't end up with a rushed stand that looks unprofessional and discourages attendees from interacting with your sales staff.
Devise a plan to make your exhibit stand out
When you're exhibiting at a trade show for the first time, it's easy to feel as if you're at a disadvantage. As a first-time exhibitor you actually have a useful advantage over your competitors: you aren't tempted to settle for a risk-averse display stand.
Most businesses are conservative and risk-averse by their nature, particularly when it comes to trade shows. With floor space to pay for and quotas to live up to, taking a risk on a colourful, eye-catching display stand is something that a lot of businesses aren't willing to do.
The end result of this risk-averse strategy is the type of trade show stand that uses colours like blue, black, grey and white to avoid being too bold or eye-catching. It's the type of stand that you're competing with, and one that you can easily beat with some simple principles of eye-catching design.
Using colour to your advantage:
There's a reason McDonald's decorates its restaurants using red and yellow – they catch the eye and immediately draw your interest. While you might not want your display stand coloured red and yellow, you can use other bold colours to attract attention from attendees without compromising your brand.
Colours like deep red catch the eye and give your stand a sense of energy that other exhibitors might lack. Colours like orange stand out in a crowd of bland design and give your exhibit a look that indicates value. On the other hand, colours like pink or purple can be used to denote calmness and luxury, respectively.
Different colours have very different effects on the mind, and you can use certain colours to have an effect on your audience at a trade show:
·         Black makes your stand look traditional, authoritative, and exclusive.
·         Purple makes your stand look luxurious, elegant, and expensive.
·         Yellow makes your stand look urgent but is regarded as tacky.
·         Red makes your stand look powerful, energetic, and striking.
·         Blue makes your stand look calm, pure, and comfortable.
·         Green makes your stand look natural, harmonious, and dependable.
·         Pink makes your stand look sweet, comforting, and calming.
Colour plays a major role in projecting the type of message that your business wants to send, and choosing a colour that strikes the right balance between helping you get noticed and supporting your brand is an important decision.
Read more about how colour can be used effectively to refine your marketing at this page. Remember that there is often a trade-off between being seen (bright colours) and being perceived as an authority (darker, more traditional colours.)
Put your exhibit in motion:
Digital displays can be a powerful tool for attracting attendees to your trade show stand. If you have a short marketing video that catches the eye of prospects, play it on one of your displays to attract people to your stand.
Albert Mehrabian, an expert in nonverbal communications, has demonstrated that over 93 percent of communication is nonverbal. The human brain responds more powerfully to images and videos than it does to text, making full motion displays a huge opportunity for your business to attract attention.
Just like there's a trade-off between authority and attention in your choice of colour, overusing motion can hurt your trade show stand. Stick to simple videos that draw in passers-by, not overly complicated videos that try to close the sale on their own.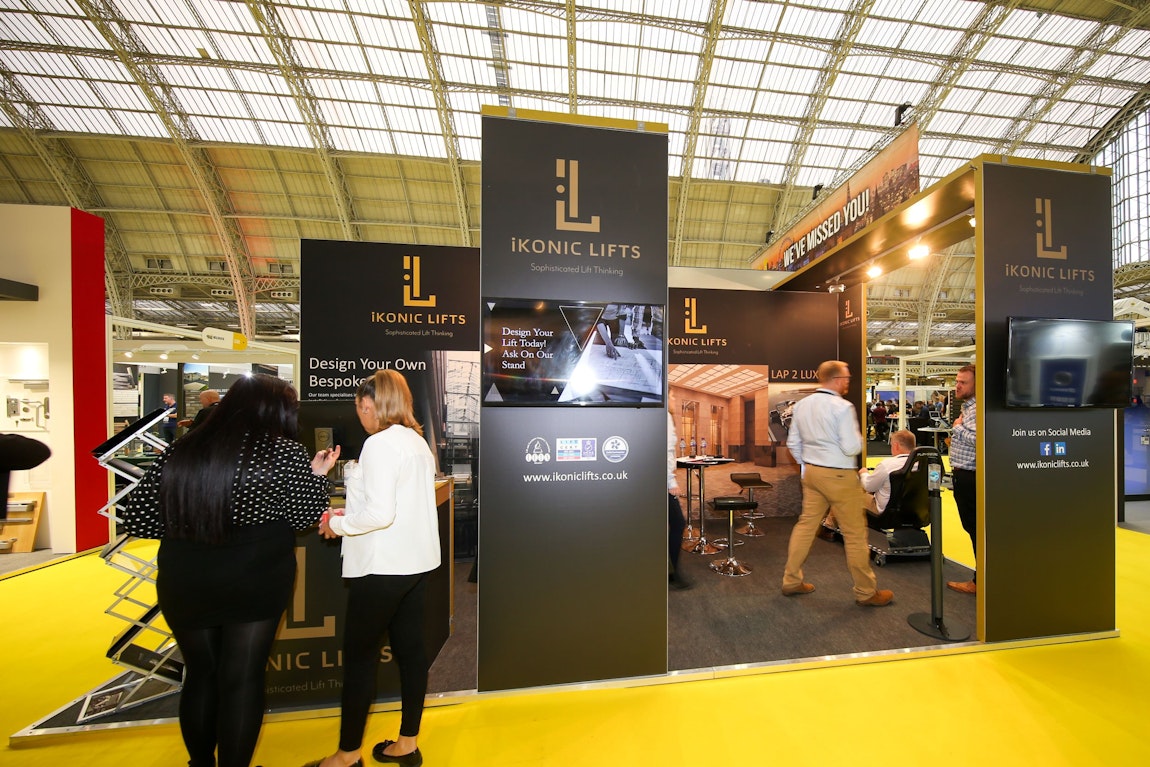 Use images to your advantage:
Images are an incredibly effective tool for reaching your target audience. The human brain processes images 60,000 times faster than text, giving you the power to send a detailed message in seconds that would take far longer to send using written copy.
Just like different colours have an impact on how your company is perceived, images have an effect on the way passers-by view your company. This means you can use images to filter out bad leads while intentionally attracting the type of prospects your company is looking for.
Let's pretend you're at a property trade show – a vertical trade show where every exhibitor and attendee is involved, at some level, in designing, building, and selling property.
As an exhibitor, you can use images to selectively target a certain segment of the trade show's attendees:
If you're a construction firm specifically targeting developers that design and sell large-scale office buildings and residential complexes, you'll benefit from using images of skyscrapers and apartment blocks in your stand.

If you're an estate agent specifically targeting residential developers to work with on a results-driven basis, you can use pictures of homes with 'sold' signs outside to paint an image of sales success in prospects' minds.
Using images this way might seem obvious, but it's a reality that's lost on many first-time trade show exhibitors, who avoid using images in favour of a plain stand that's overly dependent on text.
Another great strategy is to use images of your target audience in your stand. This is particularly effective if you have a product that's aimed at a specific demographic:
If your company sells a retirement planning service, use images of retirees enjoying their life to project the image your audience is seeking.

If your company offers banking services aimed at jet-setting executives, you can use images of people boarding or disembarking from airplanes.

If your company offers tutoring services for university students, you can use images of happy graduates to paint a picture of academic success.
People respond strongly to images that they can identify with, and with images that they view as aspirational. Showing the end result of your product or service is one of the best ways to create an emotional reaction that draws attendees to your exhibit.
Make your unique selling point (USP) obvious:
Legendary advertising executive Rosser Reeves pioneered the concept of a 'unique selling point' in the early 1940s. A USP is something that your business does better than any of its competitors, and a key motivation for prospects to consider you over the competition.
When you're marketing to clients in a less competitive setting, your unique selling point isn't so important. When you're in a hugely competitive setting like a trade show, however, differentiating your business from its competitors is essential.
Attendees at trade shows are bombarded with offers from various companies and often leave with hundreds of business cards. Unless your display makes your USP obvious, you'll end up as just another forgettable face in the crowd.
Put the key features of your stand, for example products or marketing messages that emphasise your benefits, at the front and centre of your display. You only have a few seconds to make an impact – make them count using your unique selling points.
A key aspect of this is marketing benefits instead of features. Your display should put the benefits of your product or service in the most visible location, and list the features in brochures and other materials that prospects will leave with.
This article on Entrepreneur.com goes into greater detail about marketing benefits instead of features. The key, just like with effective images, is finding an emotional connection with prospects that draws them towards your stand.
"...differentiating your business from its competitors is essential"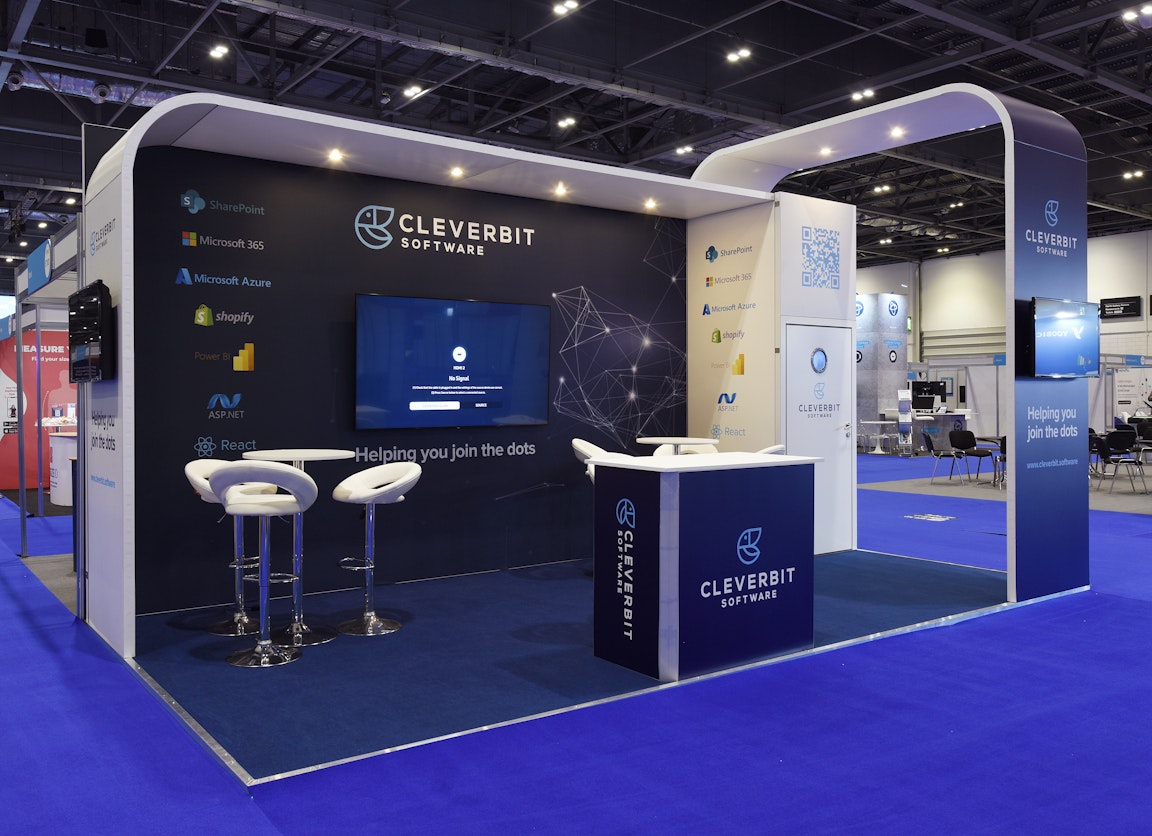 Combine direct marketing and branding
The best trade show stands effortlessly balance direct marketing and branding to close deals at the show and in the future. While the focus of your stand should be attracting visitors, increasing brand awareness is a great secondary focus.
Make sure your stand features your company name, your logo, and any branding material that you think might be relevant. The perfect exhibition stand strikes the perfect balance between branding, product showcase, and sales-driven direct marketing campaign.
Use useful free giveaways to your advantage
Most free giveaways don't work. Some free giveaways, however, are incredibly good at helping prospects remember your business. Choose a giveaway that's useful and memorable for attendees and you'll enjoy some serious feedback and sales action.
The key to a great giveaway is making your free product something that your target audience has a genuine, immediate need for. Things like plush toys might look cute, but they're not something that most prospects genuinely care about.
After all, when you're spending the entire day browsing trade show displays, would you want to carry around a plush mascot toy? The best free giveaways are useful on the day and small enough to carry round.
Pens fill a need. Your prospects will visit anywhere from ten to 100 stands during their time at a trade show. Give them a customised company pen and they'll have something that stays in their pocket for the entire trade show and gives them an immediate reminder of your company whenever they make a note
Coffee cups and drink bottles are popular giveaways that only work when they're used properly. Most people aren't going to collect multiple coffee cups or bottles during a conference, but if you can give yours out reasonably early they're very likely to stay with your prospects long after the show.
Other common trade show giveaways, like plush toys, beer coozies, and key chains are less than ideal. At the end of the trade show, you'll find that a lot of them end up in the trash. The best giveaways are functional, small enough to carry in a bag, and used frequently enough to be a useful branding tool.
Expensive giveaways – things like USB memory sticks – are a mixed bag. The goal of a free giveaway is to be profitable, and overspending on your free gifts can hurt your trade show exhibit's profitability. If you must choose a high-end giveaway, save it for prospects that seem serious about becoming customers.
It should also go without saying that cheap and tacky giveaways such as laser pens or plastic toys are rarely a good idea. How effective is a giveaway if it's broken by the time the event is over?
Competitions work best at horizontal trade shows
Competitions for high-value items like iPads or televisions work best at trade shows where you're targeting a large group of prospects. Since the goal of a competition is to attract a large audience to your stand, it's not a good idea if you're exhibiting at a trade show where only a specific audience will be interested in your product.
However, if your product or service appeals to a broad audience, you can use a high-value giveaway to attract thousands of people to your booth. Prizes like iPads and laptop computers are perfect for generating thousands of sales leads, particularly consumer sales leads, during a trade show.
Since competitions won't attract the warmest leads, they're best used for business-to-consumer products and services where the lifetime value of each prospect is lower than in a business-to-business environment.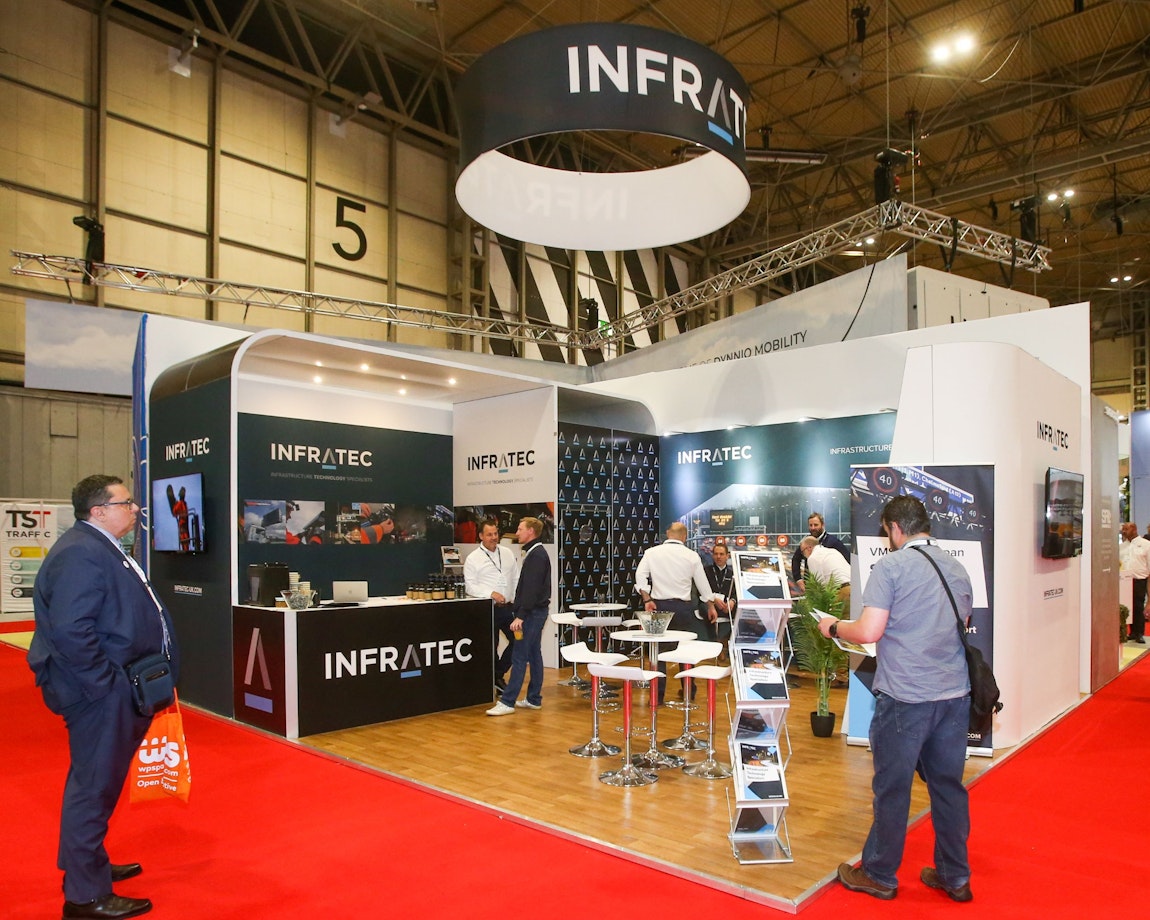 Attract your audience with interactivity
The more interactive your exhibition stand is, the more effective it will be in attracting your target audience. Things like product demonstrations – or better yet, products that prospects can test by themselves – are excellent ways to make your exhibit more interactive and attract prospective customers.
If your product has a unique feature that could impress your audience, have one of your staff members perform a live demonstration. The infomercial approach – a live demonstration that explains the product and sells it – works well at a trade show.
An even better approach is to have a live product demonstration and samples that prospects can try out. Apple has built a multi-billion dollar retail empire using the simple strategy of letting prospective customers try products before they buy.
When your product has a unique selling point that makes it better than anything the competition is offering, your best sales strategy is making it an integral part of your exhibit.
Quizzes, particularly quizzes about your company's products or services, are a great way to add interactivity to your booth. Instead of running a normal competition for an iPad or notebook computer, put together a competition that requires entrants to learn something about your company.
Include some questions on your quiz form about your product and note that all of the answers can be found within your exhibit. This gives prospects an incentive to look around your stand and learn more about how your product can help them.
The best interactive booths draw prospects into the experience of your product or service. If you can show the value of your product using a demonstration or quiz, you'll be in a far better position to convert visitors into customers.
Remember that successful interactive exhibits will draw crowds. Have brochures and other sales material ready to keep prospects occupied while they're queuing up to try your product or watch a demonstration. Your brochures should address the questions customers frequently ask, priming them for your sales team.
Creating a comfortable environment for attendees:
One of the best ways to make your interactive trade show stand really succeed is to offer comfortable seating for attendees. Put yourself in the average attendee's shoes – after a long day of wandering and standing, nothing is as tempting as a sofa.
Set out your demo products beside a comfortable sofa or lounge chair and invite attendees to come in and try them out. If they're interested in your product, have your sales staff pull up a spare chair and close the deal on the spot. Ensure your sales team knows that the chairs are for customers only – not for relaxation!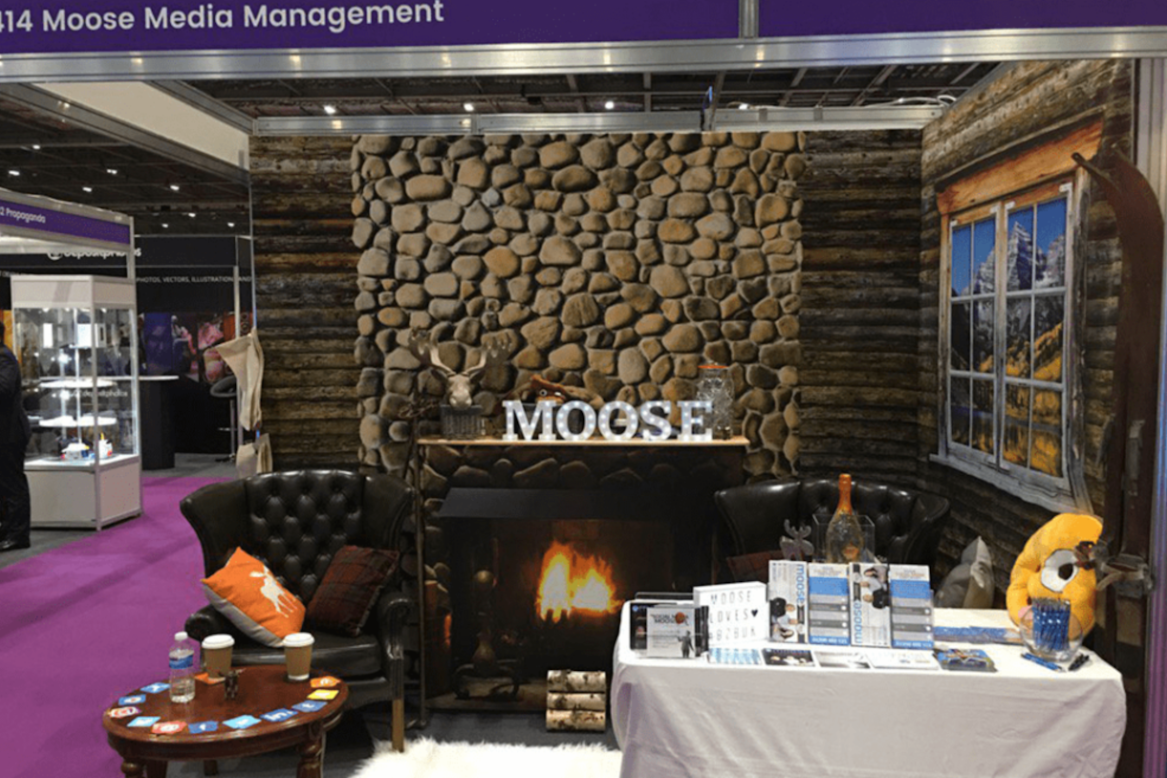 Don't be afraid to try a unique or unusual design
If you're aiming for direct sales and maximum ROI, your best choice of stand is one that puts your product or service front and centre. However, if you want to attract media and blogger attention, building a unique booth is a great idea.
These unique trade show booths are a great example of what you can achieve with a large budget and a focus on creative design. Note that almost all of the examples are for large companies that rely heavily on branding and media coverage.
If sales and a positive ROI are your objectives, stick with a booth that attracts sales prospects. If media coverage is your goal, go wild with your exhibition stand design to attract the attention of bloggers, journalists, and industry commentators.
How to prepare for a Trade ShowHow to use social media at a Trade Show