In-house Design & Print
Learn more about the kit we use to product your displays.
At Display Wizard, we take pride in being your one-stop solution for all your design and printing needs. Our ability to handle the entire process in-house ensures top-quality products, faster turnaround times, and complete control over every aspect of the project. With state-of-the-art equipment and a highly skilled team, we ensure that your vision will come to life with stunning clarity and precision.
Our In-House Design Capabilities:
High-Performance Workstation PCs: Our designers use workstations loaded with the latest Intel processors and Nvidia Graphics cards – ensuring no bottlenecks in the design process. They also use Pantone Validated ViewSonic monitors, ensuring that designs on screen match the final product.
Graphic Design Software: Our talented team of graphic designers utilise the latest industry-standard software, including Adobe Creative Suite (Photoshop, Illustrator, InDesign) and other advanced design tools. This allows us to create captivating designs tailored to your specific requirements.
3D Design and Visualisation: For projects that require 3D elements or visualisations, we employ cutting-edge 3D modelling software. This enables us to create lifelike 3D representations of your displays or products, allowing you to visualise them before production.
Colour Management System: To ensure accurate and consistent colour reproduction, we have invested in a sophisticated colour management system. This system calibrates our printers, and other devices to industry-standard colour profiles, guaranteeing vibrant and true-to-life colours in the final print.
Proofing Process: Before sending any design to print, we review and proof the artwork. Our team conducts comprehensive checks to catch any errors or discrepancies, ensuring a flawless final product.
Extensive Partner Network: For some products that can't be manufactured or printed in-house we are able to fulfil orders to our exacting standards through our long-standing partnerships with external companies.
Our Cutting-Edge Printing and Cutting Equipment
Our Cutting-Edge Printing and Cutting Equipment
EFI VUTEk Pro 32r+
At Display Wizard, we take pride in using the EFI Pro 32r+, a cutting-edge large-format roll-to-roll printer that sets new standards in the graphics and signage industry. This state-of-the-art printing solution empowers us to deliver exceptional print quality and unmatched versatility for all your advertising and promotional needs.

Unrivalled Print Quality
With the EFI Pro 32r+, we can produce stunning graphics with striking colours, smooth gradients, and impeccable details. Your designs will come to life like never before, captivating your audience and leaving a lasting impression.
Versatile Printing
No matter the media type, the EFI Pro 32r+ is up to the task. From vinyl and fabric to paper and canvas, this printer accommodates a diverse range of materials, empowering us to explore endless creative possibilities for your projects.
Turn-Around Time
For orders where time is of the essence, the EFI Pro 32r+ delivers on speed. Its high-speed production capabilities enable efficient printing of large graphics and signage projects, reducing turnaround times and elevating overall productivity.
UV-Curable Inks for Enhanced Durability
With UV-curable inks, the EFI Pro 32r+ ensures rapid curing, resulting in improved scratch resistance and the ability to print on a wider range of media, including heat-sensitive materials.
Roll-to-Roll Printing
The EFI Pro 32r+ incorporates seamless roll-to-roll functionality, providing continuous printing on rolls of media. This automated process minimizes manual intervention, optimising our workflow and maximising efficiency for large print runs.
Sustainable Printing
At Display Wizard, we value sustainability. That's why we chose the EFI Pro 32r+ as it comes equipped with eco-friendly features, such as low VOC inks and energy-saving modes, reducing our environmental impact while still delivering outstanding results.
Mimaki UJV100-160
At Display Wizard, we provide our customers with the best solutions for their branding and promotional needs. That's why we use the Mimaki UJV100-160, a cutting-edge large-format UV-LED printer designed to bring unparalleled benefits and unmatched value to your projects.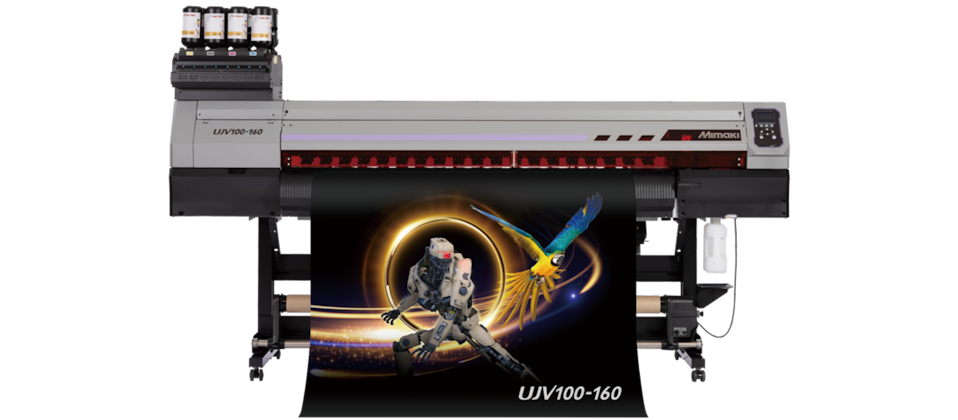 Exceeding Expectations with Exceptional Print Quality
With the Mimaki UJV100-160, we ensure that your graphics and signage go beyond expectations. This advanced printer delivers impeccable print quality with vibrant colours, sharp details, and stunning clarity. Your brand message will be showcased with a captivating visual impact, leaving a lasting impression on your target audience.
Versatility for Diverse Applications
The Mimaki UJV100-160 can print on a wide range of materials, including vinyl, fabric, banner, paper, and more. Whether you need indoor displays, outdoor banners, or promotional materials, this printer empowers us to cater to all your creative ideas.
Faster Turnaround Times, Prompt Results
We understand the importance of delivering your projects promptly. The Mimaki UJV100-160 excels in productivity, providing high-speed printing without compromising quality.
Unleashing UV-LED Technology for Durability
The Mimaki UJV100-160's advanced UV-LED curing technology ensures instant ink drying, resulting in graphics that are immediately ready for finishing. This not only saves time but also enhances scratch resistance and longevity, making your displays more durable and cost-effective.
Make a Bold Statement with Large-Format Printing
With a print width of up to 63 inches (160 cm), the Mimaki UJV100-160 enables us to create impressive, large-scale graphics that demand attention. Your brand will stand out from the crowd, making a bold and memorable statement in any environment.
Eco-Friendly Approach, Cost-Efficient Results
With Display Wizard and the Mimaki UJV100-160, you can take pride in making eco-friendly choices. This printer utilises energy-efficient UV-LED technology, reducing power consumption and operating costs. We embrace sustainability without compromising the excellence of your printed materials.
Jetrix KX7-D
At Display Wizard, we make extensive use of our Jetrix KX7-D, an extraordinary large-format UV printer that redefines the boundaries of printing technology. Our commitment to delivering exceptional results drives us to utilise this cutting-edge printer, empowering your brand to stand out with unrivalled quality and versatility.

Remarkable Print Precision for Unmatched Impact
The Jetrix KX7-D is engineered to deliver remarkable print precision, ensuring your graphics and signage make a lasting impact. With stunning colour vibrancy and razor-sharp details, your brand message will command attention and leave a memorable impression on your audience.
Limitless Applications with Versatile Media Compatibility
From rigid substrates to flexible materials, including foam board, acrylic, PVC, aluminium composite, and more, we can bring your ideas to life on a diverse range of print materials.
Accelerated Productivity for Swift Results
We understand the importance of swift turnarounds. The Jetrix KX7-D excels in productivity, delivering high-speed printing without compromising on quality. From short-run projects to large-scale campaigns, we ensure prompt results that align with your business needs.
UV Ink Curing for Enhanced Durability
We have the advantage of UV ink curing with the Jetrix KX7-D. Instant drying upon printing provides enhanced durability and scratch resistance for your graphics. Your displays will retain their brilliance, maintaining their impact over time.
Expansive Print Format, Endless Possibilities
With an expansive print format of up to 320cm (126 inches) wide, the Jetrix KX7-D allows us to create grand visual displays that demand attention. Whether it's stunning banners or high-impact wall graphics, your brand will make a bold statement that captivates the masses.
Sustainability Matters, Cost-Efficient Excellence
At Display Wizard, we are committed to sustainability. The Jetrix KX7-D incorporates energy-efficient UV-LED technology, reducing operational costs and environmental impact. Experience excellence while making responsible choices for your brand.
Esko Kongsberg X24
At Display Wizard, we use the Esko Kongsberg X24 to make short work of cutting projects to precise dimensions. Incorporating the Ekso Kongsberg X24 into our workflow reduced the time taken to cut a 50m roll from 1.5-2 hours to just 13 minutes.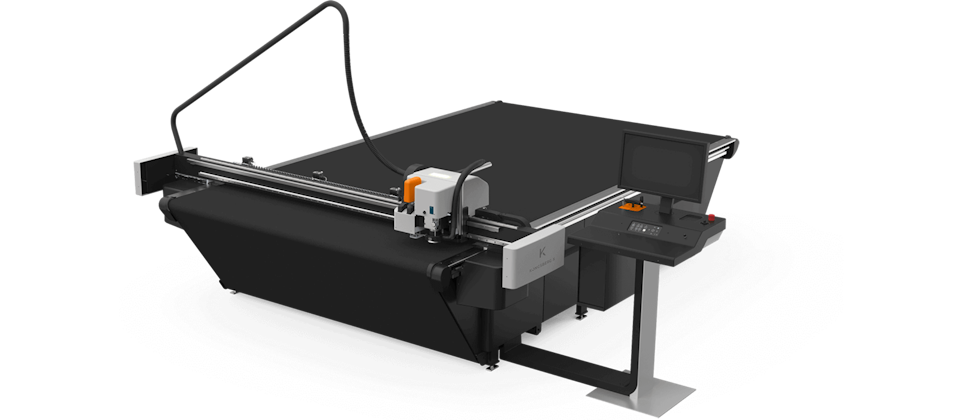 Superior Quality Output
With the Esko Kongsberg X24's precise cutting and finishing capabilities, we can deliver products with exceptional quality and accuracy. Customers can expect their graphics, signage, packaging, and display materials to have clean-cut edges, intricate detailing, and professional finishing, enhancing the overall visual appeal of their projects.
Fast Turnaround Times
The efficiency and high-speed cutting capabilities of the Esko Kongsberg X24 enable us to complete projects in shorter timeframes. This translates to faster turnaround times, allowing customers to receive their finished products promptly and meet tight deadlines.
Versatility in Materials and Applications
Display Wizard can cater to a diverse range of customer needs, thanks to the Kongsberg X24's ability to handle various materials. Whether it's cardboard, foam board, vinyl, or other substrates, the cutting table allows for versatile applications, making it ideal for signage, exhibition graphics, packaging prototypes, and more.
Streamlined Workflow and Reduced Errors
Esko's integrated software solutions facilitate an efficient and error-free workflow. We can optimise material usage, reduce waste, and minimise the risk of mistakes, ensuring a smooth production process and saving costs for both the company and its customers.
Sustainable and Eco-Friendly Solutions
Display Wizard's commitment to sustainability aligns with the Esko Kongsberg X24's eco-friendly features. By reducing material waste and optimising resource usage, we can provide our customers with greener printing options, appealing to our more environmentally-conscious clients.
Consistent and Reliable Results
Customers can have confidence in Display Wizard's services knowing that the Esko Kongsberg X24 offers consistent and reliable performance. This translates to consistent quality output, project after project, ensuring customer satisfaction and building trust in our capabilities.