There's no doubt that giveaways are effective for generating leads at exhibitions, but that doesn't mean that any giveaway will do! Let's be honest, most trade show freebies are pretty dull and uninspiring, which is exactly the opposite impression you want your brand to portray at promotional events. Cheap pens, notepads and keyrings are unlikely to convince people your brand is either cutting-edge or innovative in the slightest.
On top of this there are a whole host of other considerations, does the giveaway reinforce your brand identity? Is it eco-friendly? Cost-effective? Light enough to be transported easily (especially for delegates from other countries)? With any giveaway, it's worth thinking about your target market for that show and how they will relate to the product.
So, how do you find a unique promotional exhibition freebie? Here we look at 20 unique ideas which will help attract attention to your stand and leave a positive lasting impression of your business: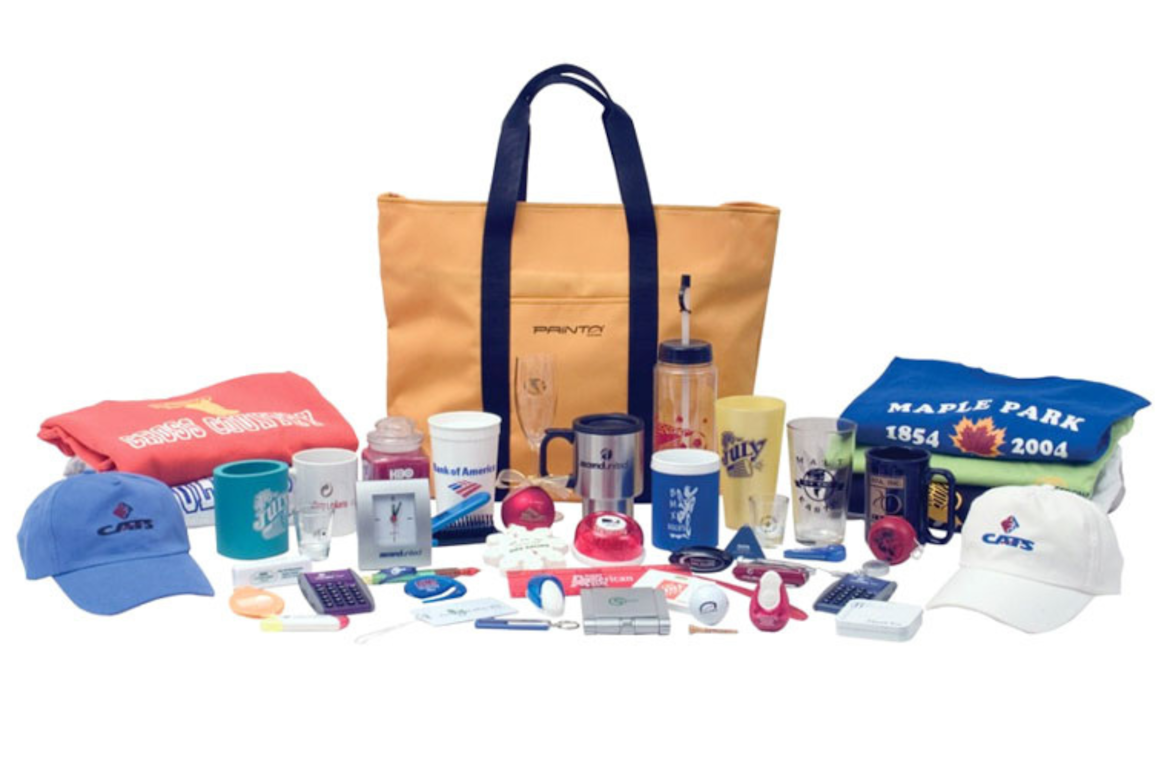 1. Power Bank Chargers
Branded power bank chargers are a functional giveaway with the lack of charging points in exhibition venues leading to many attendees with potential flat mobile phone batteries.
This type of giveaway is at the pricier end for promotional merchandise, so it may be worth being selective with which delegates you give them to.
2. Socks, Hats & Gloves
Most promotional giveaways tend not to stand the test of time, with many cheap products getting thrown in the bin when the attendee leaves the show.
The benefit of a branded clothing accessory such as a pair of socks, gloves or a bobble hat is that attendees will be more likely to take them home and store them in their drawer, providing you with a branding opportunity for years to come!
Exhibiting at a winter trade show? A branded set of woolly gloves will improve your popularity no end!
3. Bottle Opener Keyring
Many exhibitors opt for a branded keyring for attendees, but it's unlikely many attendees will be missing a standard keyring or feel loyal enough to your brand to include it on their key chain.
A far better solution for a unique giveaway is a branded bottle-opener keyring, a useful addition to have in anybody's pocket and bound to give any attendee a positive association with your brand!
4. Travel Mug or 'Stojo'
There has been a lot of publicity about cutting down on 'disposable' culture, with much made of coffee shops in particular using cups that go straight to landfill.
A recent study found that fewer than 1 in 400 takeaway cups are recycled. This has led to a rise in people using travel mugs or collapsible 'Stojos' to fill up with coffee. Why not gift attendees an eco-friendly reusable coffee mug with your logo and company colours?
7. Eco-friendly Branded Bag
The branded exhibition bag is a staple of trade shows as they are useful for carrying around the promotional literature received at events.
There are several eco-friendly versions of these branded bags including organic cotton and fully recyclable bags to help with your environmental footprint.
6. Smartphone Wallet
As we move more and more to a cashless society, the need for a conventional wallet to hold cash is lessening by the year.
Many people now prefer to carry just their card, and what better way to do this than a smartphone wallet? Easily attached to the back of a phone and custom-printed options available to get more eyes on your branding.
7. Smartphone Holder
Cost-effective and highly functional, a branded smartphone or tablet holder is a useful addition to a desk or for displaying media on a tablet in a meeting room.
There are also custom shapes of phone holders available so you can even make it industry-specific for your target audience.
8. Custom-Printed T-shirts
Everyone likes a free t-shirt - it's bound to become a memorable reminder of your business for the delegate that receives it.
These freebies have the added bonus of being able to double up as uniform for your staff manning the stand.
9. Custom-Printed Umbrellas
Ideal for trade shows in rainier climates – if you choose to give these away you'll be praying for rain as your brand will receive immediate brand exposure outside the venue.
Branded products such as these used to come at a premium but with online competition between suppliers being so high, you can pick one of these up for an extremely good price.
10. Shopping Trolley Token
Another functional giveaway that will likely be retained for years to come is a branded shopping trolley token.
This is bound to go straight on the attendee's keyring reminding them of your brand for years to come.
11. Moleskine Notepad
An extremely useful exhibition freebie is a top quality Moleskine notepad, which can be embossed with your  logo and contact details.
This is likely to be used in a business environment by the attendee making the delegate associate your brand with quality and luxury - which is key to targeting high-value customers.
12. Charging Pad
Similar to the powerbank, a charging pad is an effective way of charging a mobile device: simply place your mobile device on the pad and power will be restored!
These pads are a premium giveaway that will mean your business is associated with quality and innovation.
13. Branded Food
Although it won't last as long as some of the other giveaways, branded food is a good way for attendees to see your brand in a positive light, especially when hunger hits in the middle of a tiring day out at an exhibition!
Some popular foods to be branded are: cupcakes; jelly beans; rock and other hard candy; Pick N Mix; mints; chocolate money (great for accountants), but really it can be anything you choose!
14. Stress Relief Balls
A fun giveaway that can be tied in with your marketing message (maybe your product or services relieve customer's stress in some way?), a branded stress ball is a popular choice of exhibition freebie.
These giveaways can even come in custom shapes that relate more to your product – particularly useful for when you want to promote a new product at an event.
15. Branded Drinks
Walking around a trade show is tiring work and many visitors will want to avoid the long queues and high pricing of drinks from the venue.
That's why branded drinks such as bottled water or hot beverages such as tea and coffee are such a popular exhibition freebie. You will need to buy or hire a coffee machine and kettle for the hot beverages and also be aware of the additional electric charges for running the appliances from the event organiser.
16. Pen with Stylus/Torch
Branded pens are a staple exhibition giveaway, so it's best to have one that is worth keeping and stays at the forefront of the delegate's mind.
Adding another useful function to your pen such as a stylus or torch will help it to stand out and help rekindle interest in your product or service in the future.
17. Product Samples
If you produce a low-cost item, one of the most cost-effective trade show giveaways is a sample of your product, although of course you don't want to give away too much that the customer doesn't need to buy your product.
A sample is particularly useful for the food and beverage industry who may want to give attendees a taste of their product.
18. Electric Fans
For summer trade shows a branded electric fan is a unique giveaway that will create interest for your brand.
As always with branded giveaways it's best to keep your branding fairly discreet so the item isn't too self-promotional. Keep your key brand message for your pop up banners and other exhibition stands.
19. USB Sticks
A branded USB stick pre-loaded with your product catalogue is a great way to get people to look through your range after the show as well as provide them with a useful freebie.
USB sticks are far more cost-effective than you think meaning they seem more of a 'premium' product than their price tag.
20. Diary/Year Planner
Well-suited to events at the end of a calendar year, a day-by-day diary is a useful accessory for many business people.
A gentle reminder that this is from your company in the form of an embossed logo and contact details will help to keep your business fresh in the attendee's mind throughout 12 months.
Summary
These are just a few ideas for exhibition freebies, we hope this has given you some ideas but the list really is almost endless.
The main thing to bear in mind is to think carefully about your target audience and what would be useful and memorable for them. It may also be with thinking of different tiers of promotional giveaways, using more premium freebies for better value prospects and a cheaper giveaway for unqualified leads.