Queue barrier systems are useful in a variety of different environments in order to manage queues and ensure effective crowd control.
However, if you've never had to buy a queue barrier system before, it can be a little daunting. That's why we've put together this handy queue barrier system buyer's guide to help you make the right choice!
Contents
What is a queue barrier?

Why use a queue barrier?

Types of queue barrier

What to look for in a queue barrier system?

Ideal Uses of Queue Systems

Which supplier should I choose for my queue barriers?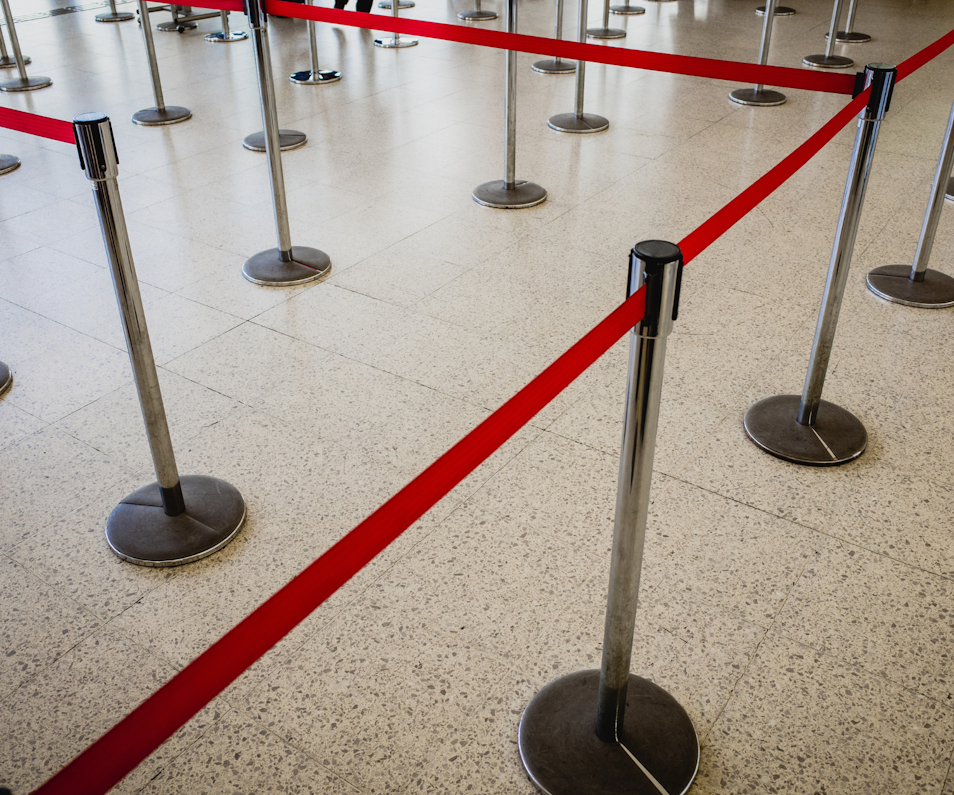 What is a Queue Barrier System?
Queue barriers can help you direct visitors into an orderly queue or enclosed when needed.
They are often used in shops, restaurants, cafés and at various events – with indoor and outdoor versions available.
What other names are there for queue barriers?
• Queue Management Systems
• Retractable Queue Barriers
• Display Barriers
• Crowd Control Barriers
• Queue Rails
• Post & Rope Barriers
Why use queue barriers?
Queue barriers are seen in a huge variety of locations – from red carpet award ceremonies to building sites. But why are they so popular and what are their primary uses?
Control Visitor Flow & Keep Them Safe
Knowing where to queue is not always as straightforward for customers as you might think, so a queue barrier can help them navigate the store more easily.
If you want to alert visitors to a hazard on your premises – such as wet floors or an area undergoing maintenance work – a highly-visible safety queue barrier is a great way to cordon off dangerous areas.
Create Privacy
Whether to create a VIP area in a nightclub or an outdoor dining area in a café, a queue barrier can also be used to create privacy for customers in your establishment.
Café barriers are always popular for creating privacy in pubs, restaurants and cafes. These display systems combine printed banners with queue barrier rails for added branding and privacy for customers.
Add Cross-Sell Opportunities
The queueing area within a retail space is a great opportunity to cross-sell to the customer – usually with lower-cost 'impulse' buys like snacks or accessories.
With many queue systems there are opportunities to add racking or display bowls to promote certain products to passers-by and increase the order value for your store.
Types of Queue Barrier
Café barriers are a popular means of segmenting customer areas in cafés, restaurants, pubs and other establishments. They provide shelter from the wind and also display a printed message such as your company logo.
They have heavy-duty bases with clip-on graphics that can be replaced for different seasons or certain promotions.
Advantages
Branded displays

Different configurations available

Weatherproof
Retractable belt barriers feature a discreet belt which pulls back into the housing on the post. These are the most popular type of queue barrier because they are easy-to-assemble and allow you to create multiple configurations with ease thanks to the 4-way receiver clips in the posts.
They come in a variety of types from a standard indoor version including wall-mounted, free-standing, twin-belt, floor-fixed, highly visible and outdoor versions.
Another advantage of this type of queue system is the ability to display a printed message on the barrier itself. This can be a stock message such as 'DO NOT ENTER' OR 'NO PARKING' or a custom-printed message or logo on larger orders.
Advantages
Simple Mechanism

Highly Customisable

Can display printed message
Post and rope queue barriers are a high-quality queue solution popular with nightclubs, cinemas and premium events. The ropes come in a variety of colours, with the stanchions also available in a range of finishes.
These barriers use a simple hook fastening attaching the rope to the stanchion, great for managing entry to premises. Using a wall plate, the ropes can even be attached directly to a wall fixing.
Advantages
Premium design

Range of post tops available

Simple to assemble
What to look for in a queue barrier system?
There are many different features you need to know about when searching for a queue barrier system, with a wide variety of quality and functionality which can make or break your purchase. Here are three of the most important things to look out for:
Belt Length
When buying a queue barrier, belt length is one of the most important factors. Some queue barriers come with extra-long belts, which lessens the number of posts you require. Look out for queue barrier systems with belt lengths over 3m for added value. The industry standard is 2.3m.
Base Weight
Queue systems can be knocked easily by customers so it's important they have a heavy base in order to remain in place.This is especially important for outdoor barriers, which can be blown around by the wind if they're lightweight.
Connections & Release Mechanism
Ideally you need a 4-way connection on the post to create a range of different configurations as needed.It is also beneficial if the systems feature a slow-retract braking system, meaning the belts retract slowly rather than snap shut, potentially causing damage to the belt end.
Ideal Uses of Queue Systems
Queue barrier systems are seen in a wide variety of locations, here are some of the most popular uses:
• Queue system in retail stores
• Christmas markets
• Cinema queues
• Nightclub queues
• Museum management
• Christmas fairs
• Building Site Management
• Airport queues
• Smoking area outside pub, nightclub, restaurant or cafe
• Many, many more…
Which supplier should I choose for my queue barriers?
With over fifteen years providing display equipment for a range of different industries, Display Wizard are experts in all manner of display stands.
• Products kept in-stock for quick UK despatch
• Hardware Guarantees
• Custom Belt Printing Available
For all your queue barrier enquiries please get in touch with Display Wizard today – we are always happy to help!