A fundamental objective at a trade show is to collect leads. This information can be enormously valuable for potential future business and growing your brand.
With a massive 83% of exhibitors declaring that meeting potential customers is the main reason for exhibiting at a trade show, it's no surprise that collecting leads is so crucial.
Collecting leads at a trade show should be a central pillar of any exhibition marketing strategy and can make or break your event.
Why Collect Leads?
Exhibiting at a trade show is a way of raising awareness of your brand, and taking the opportunity to explain the benefits of your business on a face-to-face basis.
If you're exhibiting your brand in this way, then it makes sense to want this heightened exposure to lead to more business. This means turning visitors to your trade show stand into potential leads.
However, while it's one thing to attract visitors to your stand, it can be more of a challenge to transform them into leads.The common mistake many trade show exhibitors make is to be too indiscriminate in their lead collection. They simply plan to capture as many leads as possible, without having a strategy underpinning this.
What they then end up with is a large volume of contacts, but without a clear focus or specific target for why they have them.
Any method for collecting leads should also have a clear set of objectives driving it, as this helps with the most important aspect of any trade show strategy – following up your leads.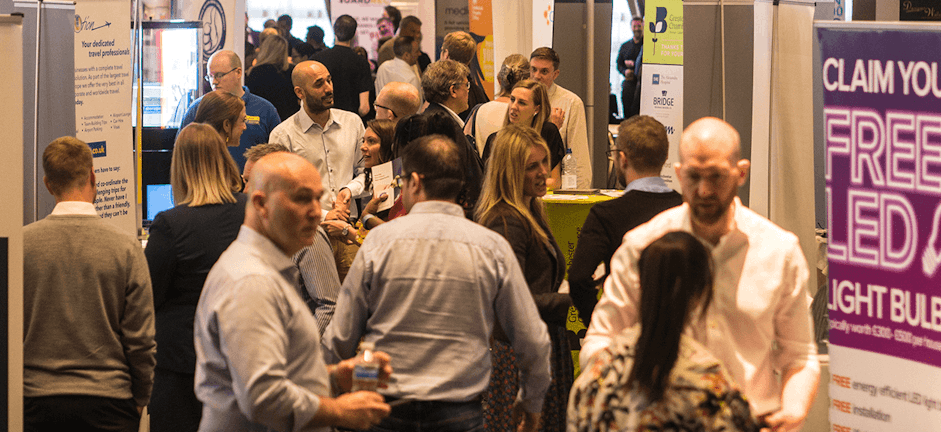 Methods for Lead Collection
Forms – using paper forms for collecting your leads may seem a bit old school, but some find it an easy method to design and use. But here's a gentle word of warning: having someone on your stand with a clipboard may give your brand an outdated feel.

Business cards – like paper forms, business cards are very much pre-digital, but unlike paper forms, they continue to thrive as a popular means of leaving and collecting information.

Business card scanning – The hi-tech alternative – often provided by the event organiser – enables you to simply scan the visitor pass to create a list of contacts. This save on collecting large physical numbers of visitors' cards in the process. Some scanners come with apps let you make notes to go with the scan, to remind you of what you talked about with each individual visitor.

Badge scanning – depending on the organiser of the trade show, you may be able to access badge scanners to collect visitor information on your stand.

Universal lead capturing – There are various trade show lead apps that enable you to do this. These modern, digital solutions are app-based, transforming mobile phones and other devices into efficient, lead capturing tools. It allows you to cut out any of the admin involved in paper lead collection, with streamlined data capture and entry.
Best Lead Collection Practices for GDPR
The basic rule you should follow for GDPR compliance at trade shows is to only collect the information you need.
You want to avoid storing any unwanted, unneeded personal data. To cut out any unnecessary details, first review the fields in your data capture forms (digital or paper-based).
It is vital that you get consent from stand visitors before collecting their information. This even includes any business cards people put into a bowl for a prize draw or other competition. Always ask them first.
Another method is to ask all your visitors to opt-in explicitly before you collect their details. This can be more time-consuming, but it does mean you can ensure your compliance. You could also design forms which require a signature from visitors.
A more efficient option is to build in a follow-up email to any lead collection, which then explains everything to the recipient – how you will store and use their personal data, and how they can unsubscribe.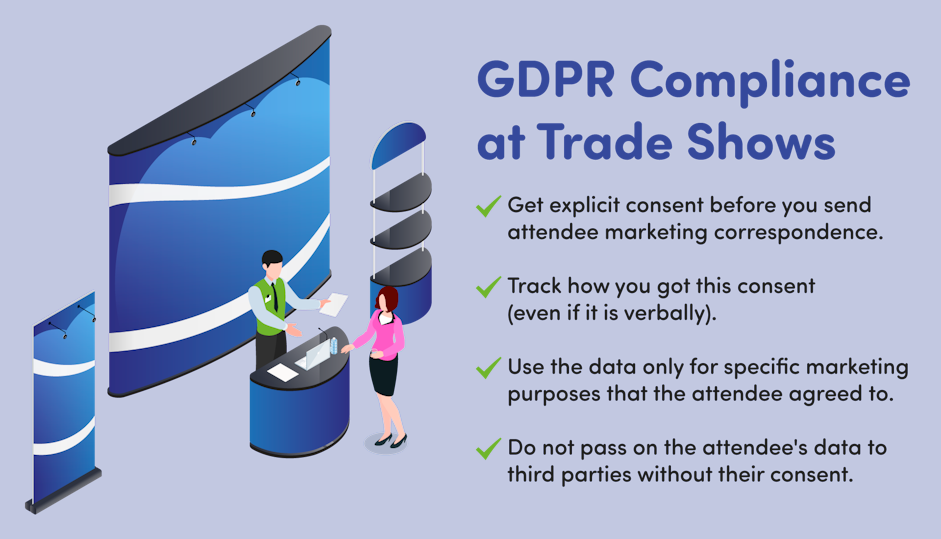 Collect Leads Effectively and Maximise Your Trade Show ROI
To maximise your return on investment from exhibiting at a trade show, you want clear evidence of engagement and potential future business.
Collecting leads can give you this. But focus on the quality not the quantity of your leads.
Make sure your methods for lead capturing are part of an overall strategy, which has clear objectives about the kind of leads you are looking for.
Not only do you want to collect leads effectively, but also qualify them, which we have covered in more detail in our post on How to Qualify Trade Show leads. As part of your pre-show strategy, you should be thinking about who your ideal stand visitor is, and how you can best attract them.
This will help you filter the details you collect on the day. Ultimately, the method you choose to collect trade show leads will only prove effective if you collect the right kind of leads for your business objectives.