Valued at over £100 billion, the food and drink sector is a top contributor to the UK economy. Employing around four million people, it's the country's biggest manufacturing sector. So there's no wonder some of the biggest and best food and drink trade shows and exhibitions are hosted in the UK.
Whether you want to connect with industry professionals, increase sales or effectively showcase your latest products, attending or exhibiting at an industry-focused trade show is a great way to get inspired.
You'll be actively meeting people interested in your brand, so why not attend one of these ten innovative trade shows and exhibitions?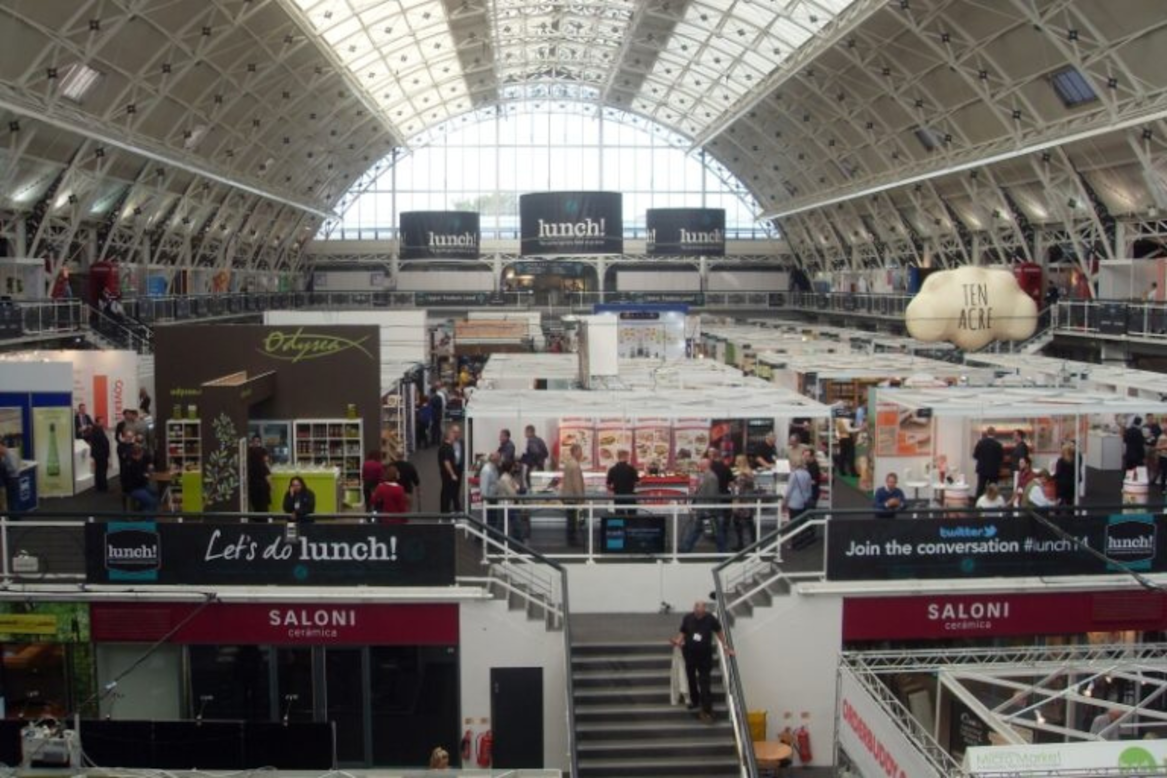 National Convenience Show
The NEC Birmingham is the venue for this show where the convenience and retail sectors meet. This three-day show is packed with incredible insights, live events and inspirational speakers. From indies to big brands, this buzzy show puts food and drinks businesses first.
It's the perfect place to increase your knowledge base with insightful live content, or build your contact list and strike a deal.
Foodex
Foodex runs across three days at the NEC Birmingham and brings together major players in the logistics, packaging and processing sectors.
If you're a part of this market, this show brings you together with decision makers and manufacturing professionals from the UK and further afield. The stimulating live programme and packed exhibitors list are just two good reasons to visit.
IFE
Food and drink professionals from across the UK will be heading for ExCel London to attend the premier event on the calendar.
Over 30,000 attendees will celebrate the resilience of the industry and look ahead to the future and the latest trends including health & wellbeing, vegan & plant-based, chilled & frozen food and much more.
With a packed exhibitor list and live sessions packed with innovation and insights, this is the UK's largest buyers event. You'll have a unique opportunity to make connections, gain exposure and keep up with the latest industry trends.
Speciality & Fine Food Fair
Showcasing the best in artisanal food and drink, this is the place to get inspired or explore the latest trends in specialty and fine foods.
Staged over two days at the iconic Olympia London, this is the go-to show for independent and established brands who want to launch new products and share innovation and knowledge.
If this is your sector, the fair is also an unparalleled opportunity to connect with buyers and other food professionals.
The Big Hospitality Expo
The Big Hospitality Expo is the ultimate event for restaurateurs and chefs, casual dining operators as well as pub, bar and street food vendors.
This show is co-located with the Low2noBev show, the Restaurant Show and Catering Equipment Expo, highlighting all the best the food and drink sector has to offer. Get your products in front of thousands of decision makers and garner hundreds of leads.
Are you looking to gain brand awareness in this exciting and fast-growing sector? Or do you supply goods, equipment and services to the hospitality industry? Then this is the show for you.
PPMA Total Show
The UK food processing and packaging event of the year runs across three full days at the NEC Birmingham. A major player in the UK economy, this sector is a hub of growth and innovation in the industry.
Review and purchase new equipment, find the greenest ways to process and package your products and connect to professionals in the industry. The show covers a range of sectors including luxury goods, baking, pet food and much more.
Lunch!
Billing itself as the must-attend show for the food to go sector, Lunch! Is packed with content, support and insights to take your coffee shop or sandwich bar to the next level.
Source everything from the next big trends in food and drink to the latest innovations in packaging and food-related tech.
85% of visitors make purchasing decisions, and the unique and buzzy atmosphere makes this a great place to learn and connect if you're part of the fast-growing food on the move sector.
The Ingredients Show
This show at the NEC is packed with innovative exhibitors, incredible seminars and more. With a focus on sustainability and a buzzing networking area, this is the place to be if you're serious about street food.
Over the two day show, thousands of decision makers will help you take your business to the next level, and free personalised marketing tools and promotional opportunities will maximise your ROI.
Imbibe Live
Imbibe Live takes place over two days at Olympia London. The leading event dedicated to drinks sales, this global marketplace gets your product in front of key decision makers from both the UK and internationally.
Gain leads, and maximise your brand awareness at this expo packed with content including innovation awards, panel debates and networking areas where you can connect with other industry professionals.
Find out about the latest trends or find out how your drinks business could be more sustainable.
Cake International
This event is the biggest one in the calendar for any sugarcraft, cake decorating and baking business. The event features industry-leading speakers, over a thousand exhibitors and insightful panel sessions and gives you the opportunity to network with other baking enthusiasts.
Whether you are looking to explore the latest trends, equipment innovations and classic tools from leading and pioneering brands, this fast-growing show is a must-attend event.
Exhibit in Style at a Food & Drink Show in the UK
For businesses in the food and drink sector, these trade shows are a great opportunity to showcase your products and services to a wider audience.
If you choose to exhibit at one of these events and require an exhibition stand, Display Wizard can help. We offer a wide variety of display stands from popular self-build solutions such as portable fabric displays and pop up displays right through to bespoke exhibition stands. 
Get in touch today to see how we can help.