Pop up banners, also known as roller banners are a fantastic marketing tool for businesses of all sizes; and thankfully they also come in lots of different sizes to suit!
They are also used in space-limited areas such as trade shows where you will want to maximise the floor area you have purchased.
Thankfully even individual banner stand models come in variable widths to be able to adapt to various sizes of booths.
Below we look at the most common pop up banner sizes available: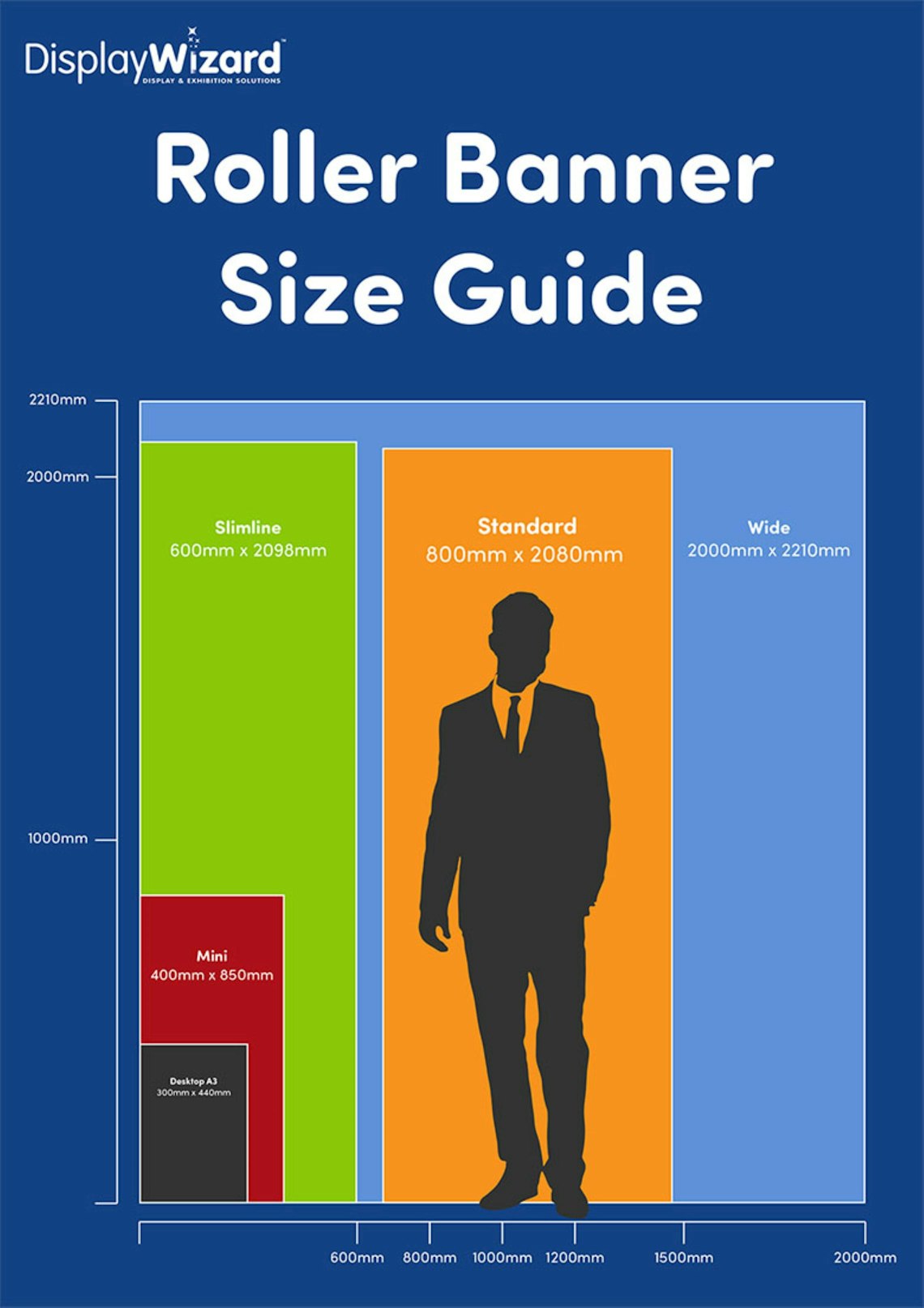 Popular Pop Up Banner Dimensions
The graphic below shows some popular sizes of roller banner; from the smallest Desktop A3 banner at 300mm wide right through to the super wide banner at over 2m wide.
The most popular banner stand size is 800mm x 2080mm, which is probably the size you've seen at networking events and small trade shows. You can't really go wrong with this size and it's a good option when buying your first banner stand!
In terms of height, most banner stands sit at just over 2m high – and generally no higher than 2.5m due to the height restrictions imposed by some exhibition venues.
Common Types of Pull Up Banner
You probably also need to think about the type of banner stand you need based on these sizes. Here are the most common uses for different sizes of roller banner:
Desktop A3 Banner: As the name suggests this is a great tabletop banner for reception desks and other areas where a small info display is required.
Mini Banner: Similar to the desktop banner in that it should be used on a table or plinth as it is slightly less visible than other larger models.
Slimline Banner: Ideal to cover shallow sides on a shell scheme display or for other limited display spaces.
Standard Banner: A great all-rounder, super visible yet also not too wide making it ideal for a range of uses such as trade shows, networking events and many more.
Wide Banner: Wide banners are often used as backdrops for photoshoots or interviews, great for portable branding opportunities
Popular Banner Stand Models
Simple but effective low-cost options include the 800mm wide Swift Roller Banner, if you want a wider stand (covering multiple widths up to 2.4m) check out the Swift Plus or Swift Premium.
Fabric banner stands are a new type of banner which come in a huge variety of widths – their lightweight frames and single-piece graphics are extremely eye-catching.
For 360 degree graphic visibility, you may want to consider a double-sided banner stand or for displaying outdoors, a weatherproof outdoor banner stand.
The most popular type of modular banner system is the Twist banner system – an extremely versatile display which can be joined together for creating large, complex backwall-type displays of extremely large widths, fully covering your shell scheme space.
Get in Touch with Display Wizard Today
We hope the pull up banner dimension template and our guide on pop up banner sizes helps you decide which is right for you.
Good luck finding the right roller banner size for you and for any questions please get in touch with Display Wizard today!