Pavement signs, also known as A-boards or sandwich boards, are a common form of outdoor advertising used by businesses.
Whether it's to show what's on the menu in a restaurant or promote an in-store sale, a pavement sign is one of the most cost-effective means of promoting your business.
However, before you buy a pavement sign, you'll need to know the regulations on whether or not it can be displayed depending on planning permission and other council guidelines. This guide will help you navigate the regulations regarding pavement signs in the UK.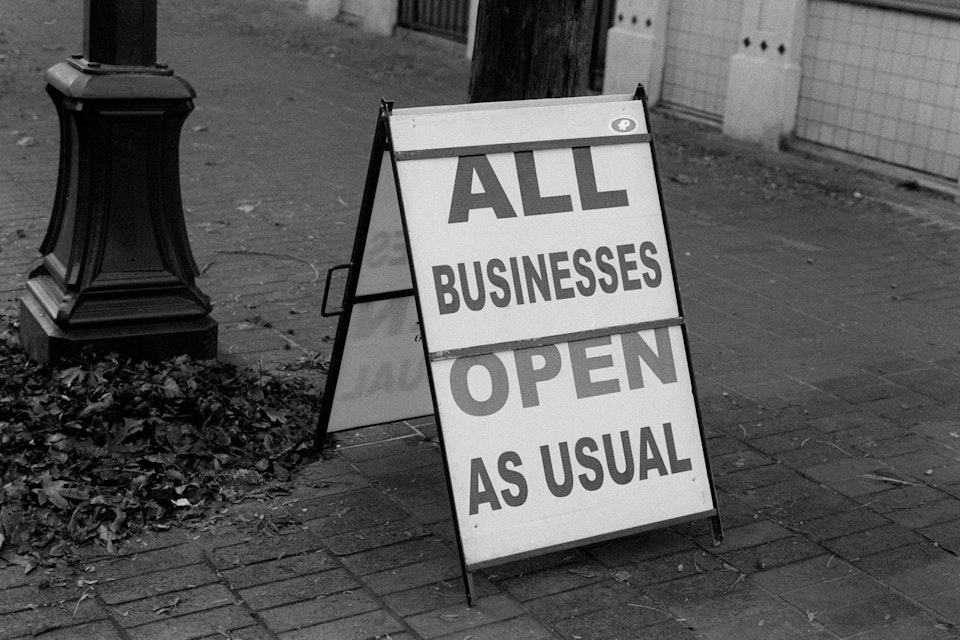 Understand the Different Types of Pavement Signs
There are various types of pavement signs, including A-boards, swing signs, illuminated signs, flags and forecourt signs. Each have different rules and requirements set by local councils, so it's important to identify the specific type you intend to use.
Temporary signs, such as A-boards, are generally more likely to be considered permitted development. However, if you plan to have a permanent sign fixed to your structure, it may require planning permission, especially if it alters the structure of the building or if the location is sensitive.
Check Permitted Development Rights
In some cases, certain types of pavement signs may be considered "permitted development," which means they can be installed without requiring planning permission.
If your pavement sign is on your own property, e.g. on a forecourt or patio area in front of your business you have permission to use this as you wish providing there are no obstructions or distractions to road users. Some councils also require a planning permission application if the sign is illuminated.
There are some common regulations for local councils regarding pavement signs although these can change. These include:
Signs must not be displayed within 2m of another pavement sign or pillar or within 2m of a bus stop or pedestrian crossing.

Only having 1 sign per business premises.

Signs have to be less than 0.8m from the front of your building, and have to leave at least 1.8m of space for pedestrians to pass. There may be additional limits on the size of display permitted.

Signs can only be put up when the business is open.
The decision on planning permission for pavement signs can depend on various local factors, such as the size, location, and potential impact on public safety, pedestrian movement, or even whether or not it fits with the heritage of the area. Check if there are any local restrictions or conservation areas that may affect the placement of your sign.
The UK government have put together this guide for advertisers looking to display outdoor advertising and signs.
Consider Highway Regulations
Local authorities are under the obligation to keep roads and highways as safe as possible, and pavement signs can cause issues in certain areas.
Councils have powers under highway regulations to control the placement of signs that may obstruct public footpaths or create hazards for road users. Ensure your pavement sign does not cause any obstruction, impede visibility, or compromise safety by distracting road users in any way.
Displaying Certain Types of Content
Remember that there may be separate regulations governing the content and display of advertising on pavement signs, including restrictions on certain types of advertising or inappropriate content such as bad language, nudity and even being too vague about the messaging (for example by just promoting a 'sale' rather than giving specific details on the offers available.
Applying for Planning Permission
Each local council has its own requirements determining pavement sign usage so it's best to contact them directly to find out whether or not you need planning permission.
It is determined that you need planning permission for your pavement sign, you must submit an application, which involves providing details such as the sign's dimensions, materials, and proposed location.
There may be associated fees and a waiting period for approval so it's best to do this as early as possible to avoid delays to displaying your sign.
Compliance and Maintenance
Once your pavement sign is installed, ensure that it complies with any conditions set by the local planning authority such as keeping the sign in good condition and keeping it indoors in certain conditions.
Councils have an obligation to protect individuals and there have been cases where injury caused by pavement signs have resulted in lawsuits against the businesses that own the signage.
By investing in public indemnity insurance you can protect your business against this should an accident occur as a result of your signage – some councils will even require this as a condition of permitting the signage to be installed.
Confused by Compliance for Pavement Signs?
We hope this guide has helped give you an overview of the factors around obtaining planning permission for pavement signs, however it's crucial to consult with your local planning authority for specific requirements in your area.
Once you have got the green light from the council, please take a look at our competitive range of pavement signs including swing signs, A-board signs and forecourt signs.
Our signage has been designed to comply with UK council planning regulations and we can provide advice where needed as well. Get in touch with our friendly team if you have any queries about planning restrictions on pavement signs.