Like any other type of marketing, exhibiting at a trade show is all about achieving the optimum return on investment. With the right planning and budgeting, a trade show exhibit can generate an excellent ROI for your business.
With the wrong planning and budgeting, however, a trade show exhibit can quickly turn into an expensive lesson in the importance of preparation. This chapter of the guide will teach you how to prepare a trade show budget that gives your business a positive return on investment from its trade show marketing efforts.
Are you setting your own budget?
If your business is relatively small, you may have almost complete control over the amount of money you can spend on your trade show exhibit. If you work for a large business, however, you might have been given a limited budget for your exhibit.
Believe it or not, the first situation – relative financial freedom regarding your trade show expenses – is often more difficult to plan than the second. Even with control over your total trade show spending, it's important to give yourself a limit to prevent an excellent opportunity turning into a major sunk cost.
Don't underestimate the cost of a trade show
If this is your first time exhibiting at a trade show, it's important to take all of your potential expenses into account. Many first-time exhibitors mistakenly break the cost of exhibiting at a trade show into a short list of expenses, as below:This five-item list might seem like the entirety of a trade show's expenses, however, there are far more costs to exhibiting at a trade show than the list shows. From food and drinks for prospects to on-site labour involved in rigging and constructing your exhibit, trade shows are loaded with hidden costs that need to be accounted for.
What do other exhibitors spend their money on?
Floor Space and Exhibition Stand Design:
The average trade show exhibitor spends 40 percent of their budget on their exhibit alone. This includes the cost of designing an exhibit (12 percent of costs) and renting booth space (28 percent of costs).
This makes it a good idea to allocate about 40 percent of your total budget to your trade show exhibition stand's design and floor space. These costs are easy to calculate if you know which trade show you will be attending and have its pricing information.
Once you've planned to attend a trade show, book your space as soon as it goes on sale. Most trade shows will offer lucrative discounts for exhibitors that book floor space early, which is very useful for keeping costs low.
The amount of space that you need ultimately depends on the show that you will be exhibiting at and the goals of your business. Later, we'll talk about how your exhibition stand will play an important role in achieving these goals.
"...the average trade show exhibitor spends 40% of their budget on their exhibit alone."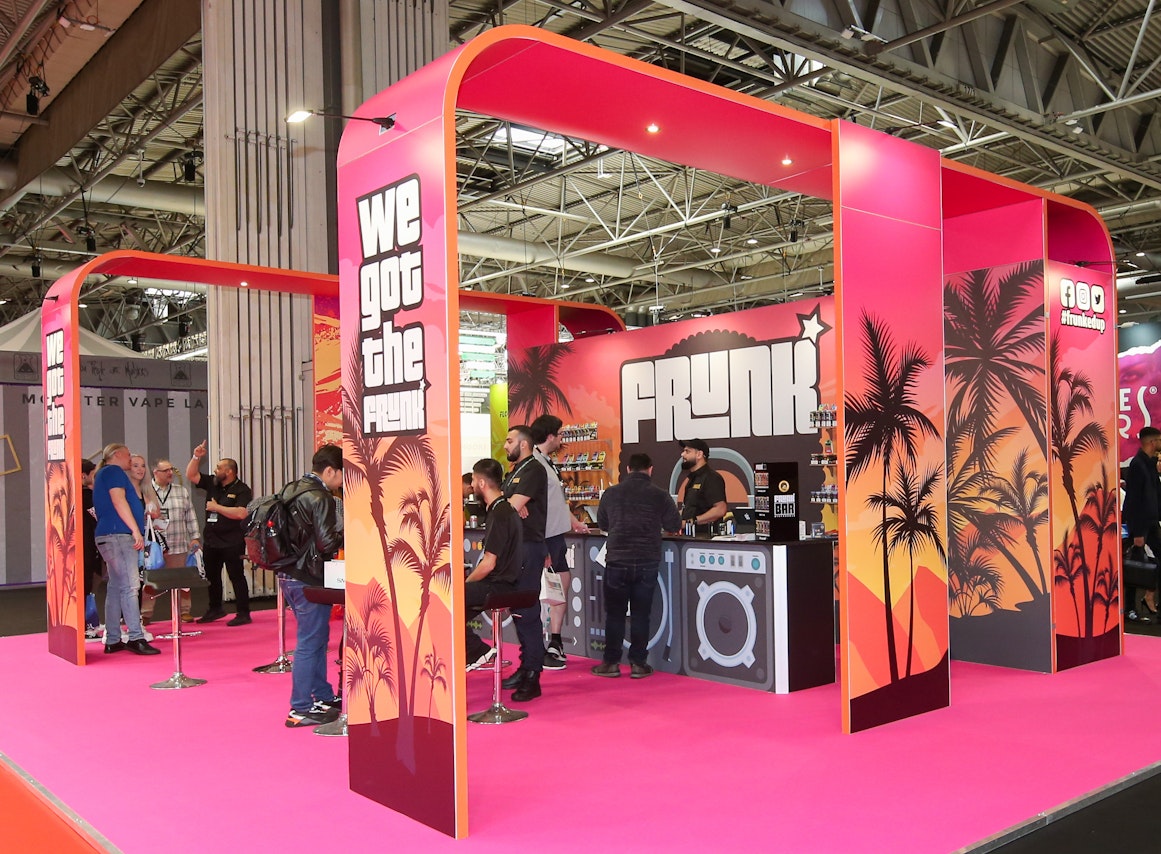 Travel, Accommodation and Entertainment:
The second greatest expense, after floor space and exhibition stand design, is travelling to and from the trade show, booking accommodation, and entertaining prospective customers and staff.
According to the Trade Show Institute, the average exhibitor spends 21 percent of their budget on travel, accommodation and entertainment. Luckily, like the cost of floor space, the amount you'll pay for travel and accommodation is very flexible.
Just as booking ahead for a trade show will save you money on floor space, you can save a lot of money on hotel rooms and flights by booking ahead of time. Try to book as soon as the event is announced if you have already committed to attending.
This is particularly important if you're exhibiting in a city that's popular with trade shows and conferences. Cities that are hubs for trade shows, such as London (or in the U.S.'s case, Las Vegas) can become very expensive places to stay when a major convention or event is in town.
While you can save money on accommodation by staying further away from the event's location, it's a good idea to book hotel rooms as close to the trade show as possible to maximise evening networking opportunities.
Some other simple ways to reduce your travel and accommodation expenses during a trade show include:
Book a serviced apartment using AirBnB, which is more affordable (and often more practical) than staying in a hotel.

Book a large hotel suite with multiple bedrooms and twin beds to lower your per-person accommodation costs.

Hire cars to travel to and from the trade show to avoid spending hours lining up for expensive taxis. In London, use the Underground – the smartphone app makes any journey through the capital easy for the most inexperienced tube passenger.

Book your air travel using a flight comparison website that scans multiple airlines. Avoid upgrades like business class seats or extra luggage (you can ship your trade show items for far less than checking in extra bags).
If you frequently attend the same trade show, sign up for your favourite hotel's club and take advantage of the benefits of being a member. A lot of hotel loyalty schemes entitle you to free nights, discounts on rooms, and discounted food, all of which are useful when you're trying to minimise trade show spending.
While accommodation and transport can be booked and paid for before the trade show, entertainment is one expense that you can't fully account for until after the trade show is over.
If you're meeting a lot of prospective customers during the show, you'll want to spend some time connecting with them outside conference hours. Keep a flexible budget for food, drinks, and entertainment that lets your representatives build a good rapport with prospects and prime them for future business.
As for your own food during the event, it's generally better to provide a per diem budget for your staff rather than buying group meals. However, you might want to encourage staff to purchase food in the morning before arriving at the trade show, as restaurants and cafés at trade shows can become very crowded during the event.
A great way to avoid dealing with trade show restaurant queues is to bring a cooler to the event and encourage staff to store their food inside. You can also store drinks for prospects that interact with your staff during the event.
Shipping of Materials and Displays:
From digital displays to trade show stands, you will need to account for the cost of shipping your promotional materials to the trade show's location. Most businesses spend about 9 percent of their budget on shipping, although if you have a larger or intricate exhibit you may need to allocate a large budget for shipping. Because of these costs, many exhibitors choose to use an exhibition stand hire service, which means the delivery of the stand is included in the overall cost rather than becoming a hidden extra.
Shipping is one of the most frequently underestimated trade show expenses for first-time exhibitors. As well as paying to have your items shipped to your trade show, you'll need to account for several other costs:
Packing and securing your trade show display, as well as any fragile items, to be shipped to their destination.

Drayage services, which will often be provided by the event organiser at a bulk rate.

Unpacking your trade show exhibition stand once it arrives and transporting it into the exhibition hall.
Finally, if you're travelling to a trade show in another country, you may need to account for fees and taxes charged by customs. This can significantly increase your shipping expenses for international trade shows.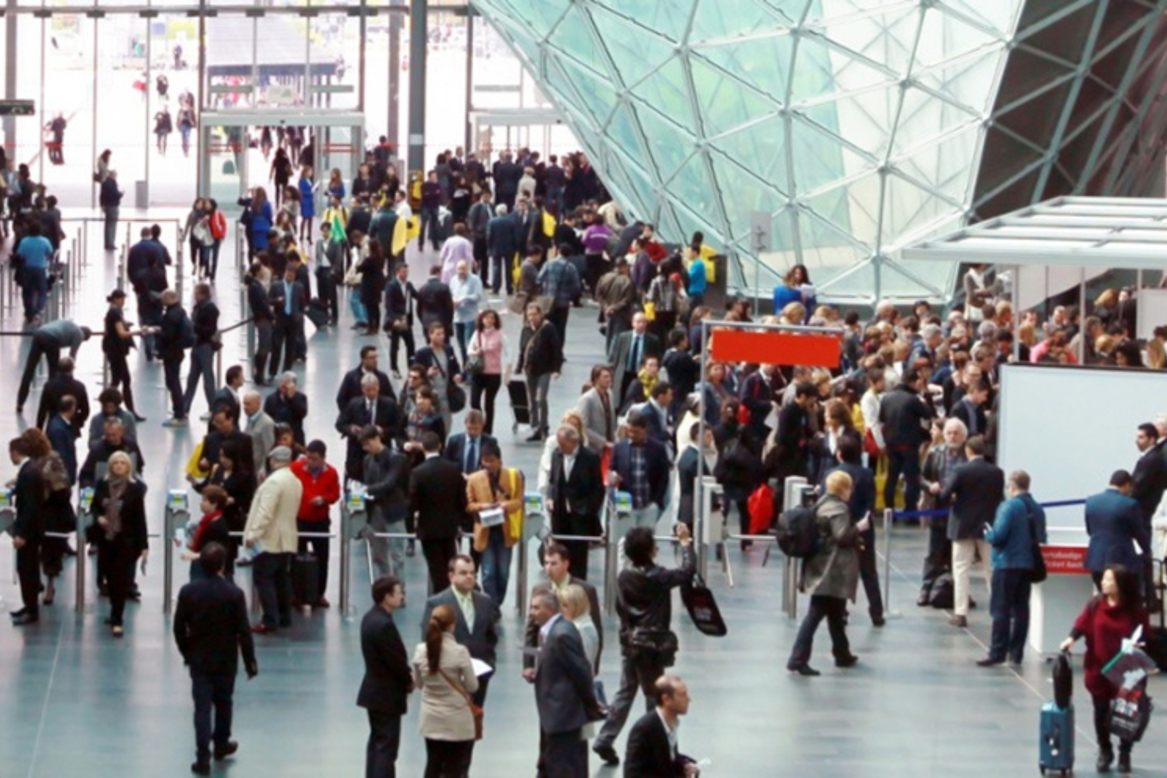 Trade Show Services:
From renting carpet to purchasing security badges, there are hundreds of hidden costs of exhibiting at a trade show that can quickly add up if you don't account for them in your initial budget.
Many trade show exhibitors spend upwards of 20 percent of their budget on trade show services – things like internet connectivity, on-site labour, and even storage space at the convention centre.
Promotional Materials and Free Giveaways:
Have you planned to give away free merchandise at your exhibit? Would you like to sponsor a presentation during the trade show? Spending your budget on giveaways and promotional materials can increase your ROI, but only if you think about which giveaways and sponsorships will suit your target audience.
You'll learn more about planning an effective free giveaway later in this guide. For now, just remember that while giveaways might be free to attendees, they always come at a cost to your business.
Opportunity Cost:
This is a big hidden cost of exhibiting at a trade show that many people don't fully take into account. When you pull staff out of the office to attend a trade show, you need to take into account the lost productivity that their absence results in.
Most trade shows are profitable, making this expense a non-issue. However, it's still important to budget for the lost revenue that taking several people out of the office can result in for your business.
Try to minimise your opportunity costs by putting together a plan for when staff are out of the office attending trade shows. While your office probably won't run at 100 percent efficiency, you can minimise costs by delegating tasks to other staff.
How can you budget for an event with so many variables?
A lot of the costs of a trade show can't be calculated until after the event, making it difficult to budget for everything in advance. Since exhibitors spend 28 percent of their budget on floor space, you can use this figure to put together a rough budget for your total trade show experience.
For simplicity's sake, let's round 28 percent up to 30 percent. If you spend £3,000 on floor space for your exhibit, you should anticipate spending around £10,000 in total during your time at the trade show. If you spend £6,000 on floor space, you'll need a total budget of £20,000 to avoid overspending on your trade show exhibit.
The key to a great trade show budget is flexibility. Once you've paid for all the ahead-of-time costs such as floor space, creating a great exhibit, and booking transport and accommodation, you can use the remaining budget flexibly to focus your spending on things that produce a direct ROI for your company.
Like all marketing, it's about results
In the months after attending a trade show, you'll be able to look back at how much you spent during the event and compare it to the results that you achieved. The next section of this guide will go into detail about calculating those results in measurable terms and explain how they can be used to work out your return on investment.
10 great reasons to exhibit at a Trade ShowHow to prepare for a Trade Show