Signage is a part of our everyday life. Every street has road signs telling us what speed to travel and what hazards to look out for. There are wayfinding signs and information signs, Health and safety signage, and shop signs telling us about promotions and discounts. Signs are all around us. But, with so much competition for our attention are they right for your business?
We've taken a closer look at the purpose of signs and signage so you can make an informed choice.
What is Signage?
Signage generally means a graphic display used to convey information.
There are different types of signage, including indoor and outdoor signs, wayfinding signage and instructional signs.
Everything from a No Entry sign to Macdonald's Golden Arches exists to be easily recognised and to convey a clear message using images and words.
What is Signage Used For? Different Types of Signage
You can use signage to inform, raise awareness, promote and give directions.
That's just a selection of the many different purposes signage has been used for over thousands of years. So we've taken a more in-depth look at the most common uses:
Print Marketing
Billboards are a familiar sight in our towns and cities. But businesses can successfully use large format signage like advertising banners to make an impact. Wide-format printing is now so advanced that you can use full-colour graphics almost everywhere to make an impact, raising brand awareness and visibility.
Print marketing signage can even be utilised at events such as trade shows in the form of exhibition stands such as pop up displays and roller banners.
Brand Recognition
The Golden Arches, Coca-Cola's distinctive logo, and the Starbucks mermaid are all examples of instantly recognisable signage. But any business can use its logo to build brand recognition with well-designed signage.
Effective brand recognition using signage means maintaining consistency throughout your store and across any other business locations for great results.
Increasing Footfall to your Business
Indoor and outdoor signs are a time-tested way to attract customers to your business. For example, pavement signs can create curiosity and entice customers to step inside by showcasing special offers and promotions.
Invest in well-designed, high-quality signage when you want to make a great first impression and let customers know they're in the right place.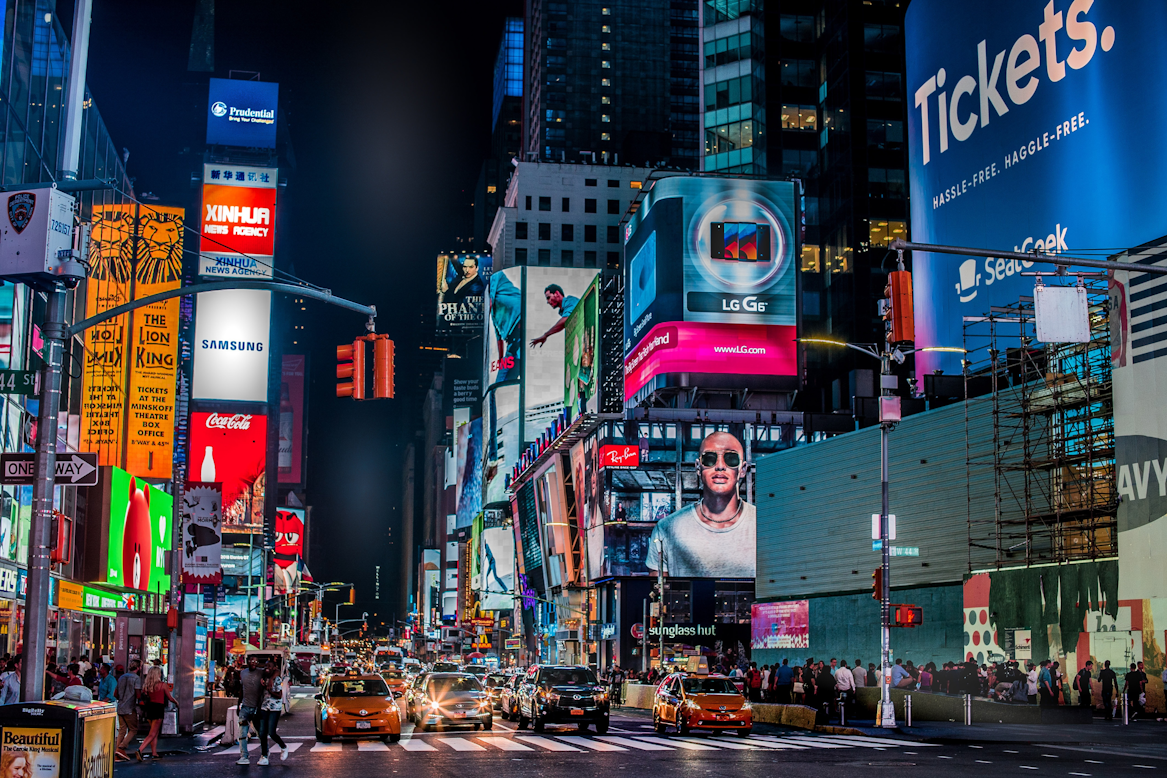 Digital Signage
Of course, not all signage is print – with digital signage making up a huge proportion of how organisations display information. In fact, digital signage capture 400% more views than static displays.
Digital signage such as TV displays or large-scale LED billboards mean businesses can also change their message more quickly – making it both useful for changing marketing messages and informational updates.
Informational & Safety Signage
Large organisations, including schools, hospitals and shopping centres, rely on informational signage to help visitors navigate with ease.
Good wayfinding signage can be an essential part of the visitor experience, helping to make visitors feel comfortable and reducing the risk of them becoming lost and frustrated.
Wayfinding and directional signs are also widely used for large-scale outdoor events like festivals. If your organisation relies on creating a seamless customer experience, then wayfinding signage is absolutely essential.
If your organisation needs to communicate health and safety information on a consistent basis, you need health and safety signage such as hazard warning signage for slippery floors.
Custom Printed Signage from Display Wizard
Your brand deserves a premium look and feel. And at Display Wizard, we encompass expertise you can trust. Using high-quality materials and the latest UV LED print technology, we'll create durable large format printing that delivers positive impacts for your business.
With attention to detail throughout the process and personalised service, there's no wonder we're a well-trusted name in the print industry. Want to attract the attention of distant crowds to your brand? Then contact us today.