Bannerbow® Indoor Event Arch
Product Code: BBOW-A-SML-SS
Bannerbow® Indoor Event Arch
Product Details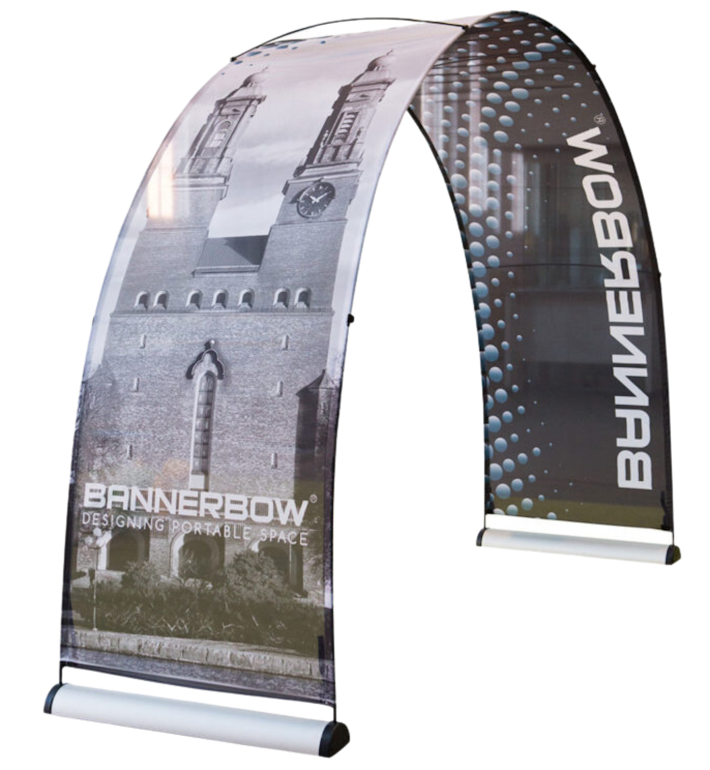 BANNERBOW® - Made to Stand Out
Whether you are participating in a roadshow or an event, our range of Bannerbow® products can inject that little bit of extra flair you are looking for.
The Bannerbow® Indoor Event Arch boasts premium quality, constructed from high-grade materials to ensure durability and stability. Despite its sturdy construction, the Indoor Event Arch is designed for easy transport and storage. The lightweight frame can be assembled and disassembled with minimal effort, making it a practical choice for events on the go. No special tools or expertise are required and can be put together by one person in a matter of minutes, allowing you to focus on other important aspects of your event planning.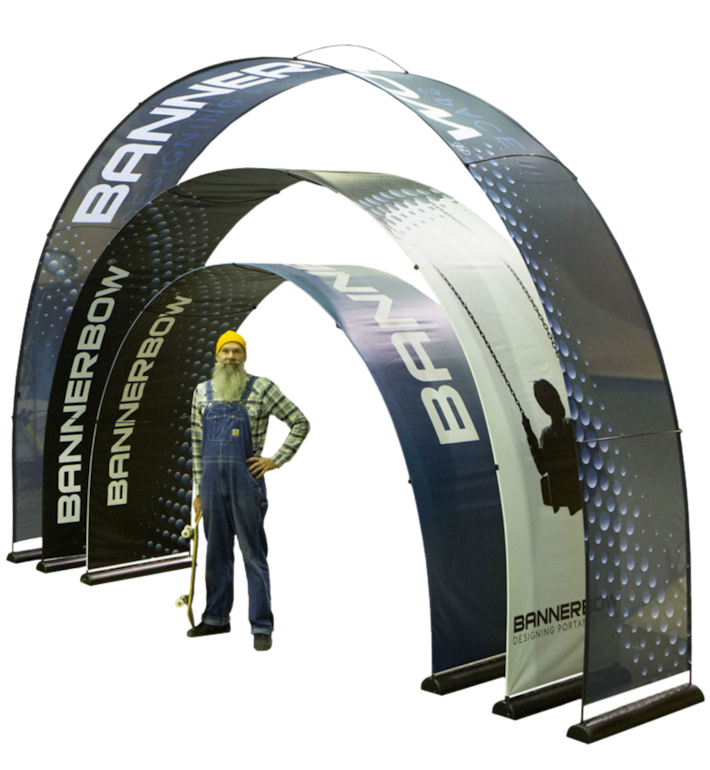 Ready for Anything
Customisation is key - choose from a range of sizes and base colours to match your event theme and branding. Whether it's a corporate event, wedding, product showcase, or trade show, the Bannerbow® Indoor Event Arch is a versatile and eye-catching centerpiece that adds a touch of elegance and grandeur to any occasion.
Three sizes are available. Small: 3000 mm x 2450 mm, medium: 4000 mm x 3200 mm, large: 5000 mm x 3750 mm.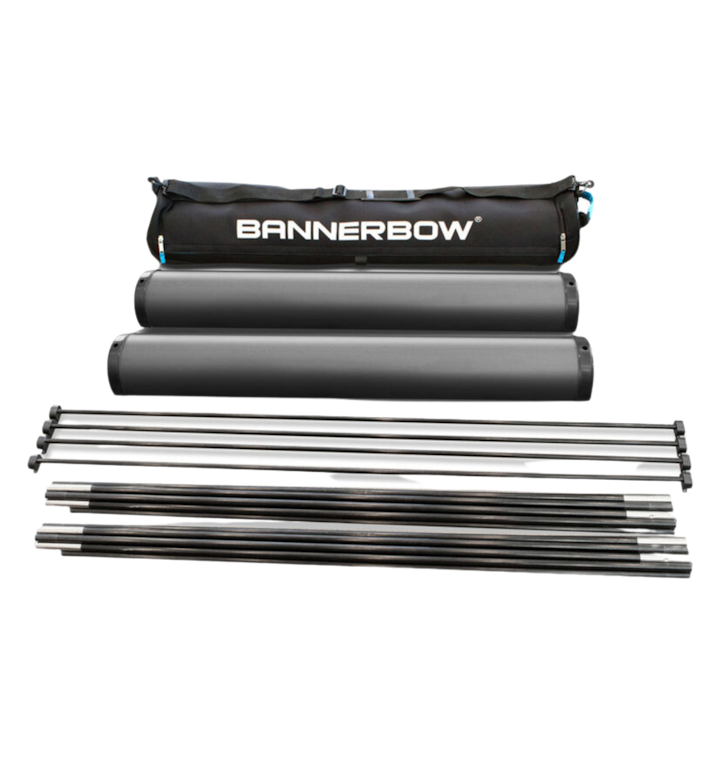 Built to Last
Made with sustainability in mind, our Indoor Event Arch is reusable for multiple events, reducing waste and minimizing environmental impact.
Transform your event into a memorable and visually striking experience with the Indoor Event Arch by Bannerbow®. Elevate your brand, create unforgettable moments, and leave a lasting impression on your guests.
Also available as an Outdoor Event Arch which have significantly larger, heavier bases.
Please note: This is a bespoke made-to-order item.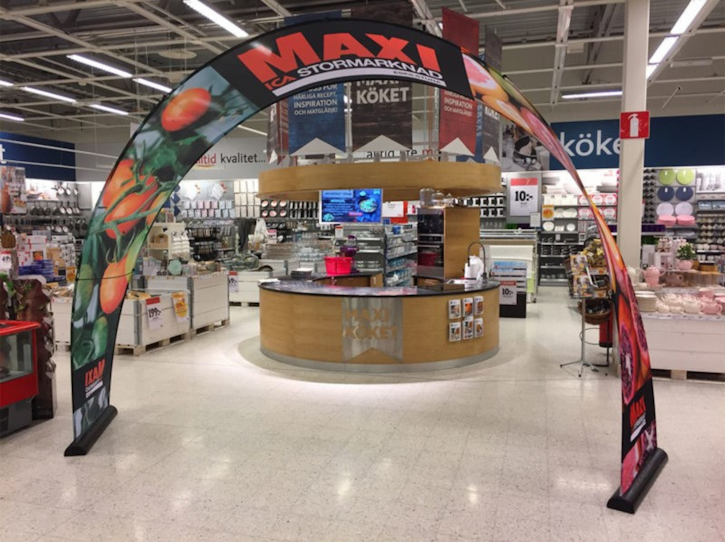 For Retail
Welcome your customers in a unique way! Event arches from Bannerbow can be used in several ways within retail and stores. By using our arches as an entrance portal, customers can "pass through" your message. When customers step into your store, they will immediately sense there's something special going on.
Present in-store campaigns and offers. The shape of our event arches means they look great in a retail environment. If you want to draw attention to a particular campaign or products, you can place the arch over or next to these products to generate customers interest and curiosity.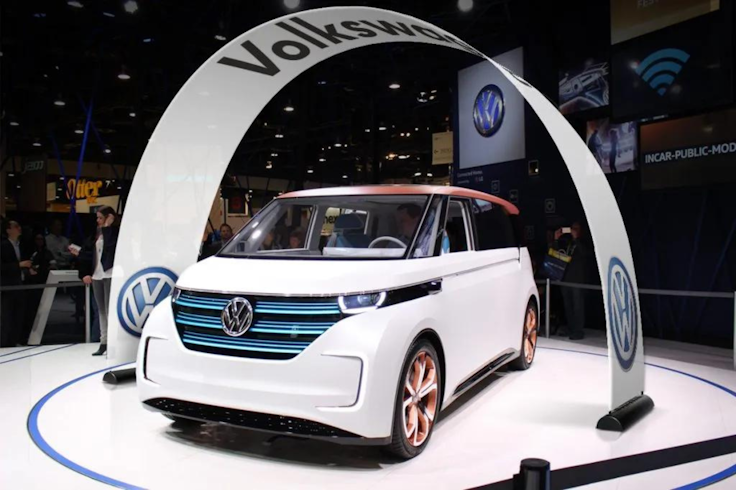 For Dealerships
Direct customer attention. With an event arch in a car showroom you can create a pop-out effect and attract the attention of the visitors. Perfect when you want to highlight a campaign or launch of a new car model.
Portable and flexible. All systems are possible to get in a smart wheeled bag, so you easily take the event arches with you on the road show event or exhibition. This also helps keep the Bannerbow in great condition so that it can be used time after time.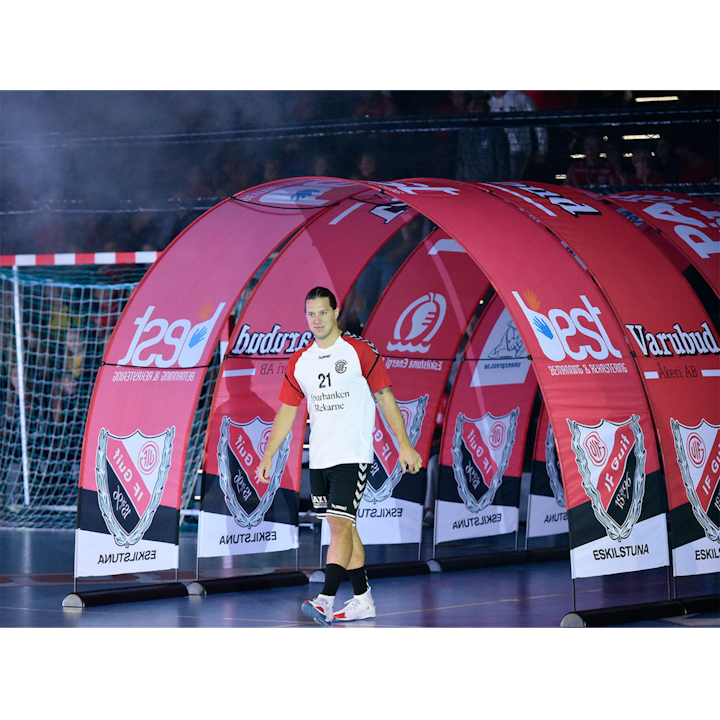 For Sport
Bannerbow for sport events and sponsorship. Bannerbow event arches create atmosphere and are eye-catching at any venue. Place them by the entrance to make visitors feel like VIPs, or place two arches midfield in a cross so that the match sponsors are visible to spectators from every angle. Create a players' tunnel out of several arches, putting full focus on your players and giving them a striking entrance.
Pays for itself and then some... Your event arches can generate revenue for your company. Bannerbow products give you a new and effective way to showcase your sponsors. Selling advertising space on your prints could not only cover the cost of the event arch but will also create a new source of sponsorship revenue.
Graphics are available either as Single Sided Mirror Image or Double Sided Graphics.The mirror image design means your branding or promotional message will be 'flipped', so will read correctly on one side and in reverse on the other side of the flag.
Product Specifications
| | |
| --- | --- |
| Indoor Outdoor: | Indoor |
| Assembly: | Tool-free assembly |
| Print Method: | Dye-sublimation digital fabric printing |
| Carry Bag Case Type: | Canvas bag |
| Includes Carry Bag Case: | Yes |
| Width: | 3000 mm |
| Height: | 2450 mm |
| Depth: | 1030 mm |
| Packaged Dimensions: | 1200 mm (l) x 190 mm (w) x 190 mm (h) |
| Weight: | 15 kg |
Artwork Templates
Download our helpful artwork guidelines & templates
Follow these artwork guides and templates to speed up your delivery and help prevent reprints.