Exhibition stands are a vital part of successful event marketing. Be it a trade show, exhibition, networking event, meeting or conference, it's important to have a display that enables you to bring maximum exposure to your brand.
However, if you're a first time exhibitor, you may need some help with the terminology and the pros and cons of each type of display, which this guide aims to clear up.
What is an exhibition stand?
An exhibition stand is a type of promotional display, usually a branded printed material attached to a frame which helps to raise the visibility of your brand.
The term can also describe larger branded metallic or wooden structures which are custom-built for organisations at exhibitions and trade shows.
Despite the name, many exhibition stands aren't just used at events but can also be displayed more permanently in offices, receptions areas or any other promotional area.
What other names are there for an exhibition stand?
Exhibition Banners

Exhibition Displays

Trade Show Signs

Trade Show Booths (US)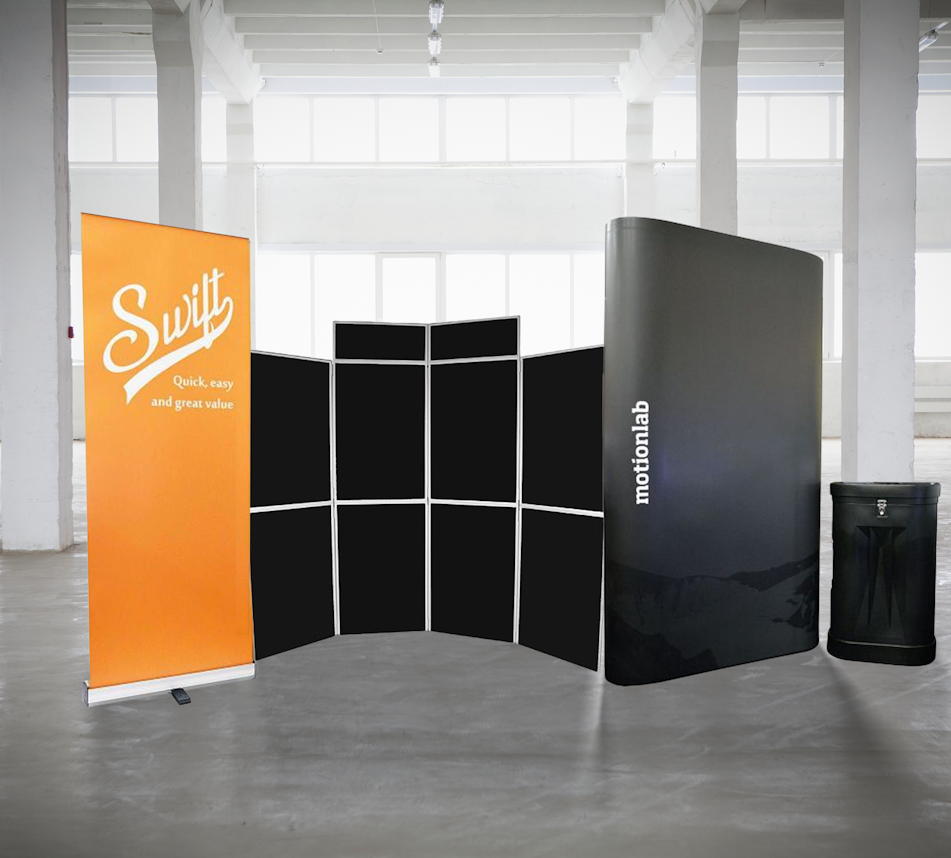 Types of exhibition stand
Banner stands are the most widely seen type of printed exhibition display. Used everywhere from retail spaces to reception areas and available in a huge range of sizes, banner stands are an essential piece of marketing equipment.
Due to their portability and ease of assembly, banner stands are most often utilised at trade shows, exhibitions and other marketing events, however there are many different variants for more permanent indoor or outdoor use.
Key Benefits
Cost-effective

Many different types available

Simple to assemble
Pop up displays are another highly popular marketing solution due to their large size, which provides a highly visible branded back wall for your company's exhibit.
They come in a number of shapes and with the right design can be a breathtaking piece of trade show signage.
Key Benefits
Visually appealing

Durable frame for long-term use

Can be customised with accessories such as plasma TVs
Fabric display stands are modern displays designed for making a big impact at events.
Ideal for trade shows due to being extremely lightweight and portable, the artwork is printed onto the graphics using dye-sub printing technology, creating an eye-catching display.
Key Benefits
Lightweight graphics

Highly portable

Custom frames available
A piece of portable exhibition furniture is a fantastic accessory to make your stand more accessible and inviting. Transporting tables and other load-bearing equipment can be a real hassle, so all portable trade show equipment can be broken down and transported easily.
There are a number of types of event furniture available including display plinths, counters and workstations, portable lecterns, display cases, showcases and even iPad displays.
Key Benefits
Encourages attendee interaction

Secure storage options available

Can be customised with bespoke graphics
Portable display boards are useful for engaging visitors at your exhibition booth. They are ideal if you have a constantly changing message or would like people to display information about your product or service.
They come in a range of colours and designs, with either table top, free-standing or modular panel and pole kits available.
Key Benefits
Good for interacting with audience

Display can be changed regularly

Can be folded up for easy transport
Literature stands are a great tool for anyone who needs to showcase brochures, magazines, leaflets or any other printed matter at an event.
The advantage of these literature racks is that they can be built and broken down with ease at the event of your choice.
Key Benefits
Extremely simple to assemble in a matter of minutes or even seconds

Single or double-sided for maximum exposure

Range of sizes for different types of literature
A modular display system is made up of a number of easily-connected components/stands which can be reconfigured to fit any size or shape of display area.
Many of these systems can be modified without tools so are ideal for exhibitors who attend multiple events and regularly change the size of their display space.
Key Benefits
Easily modified to suit different shapes and sizes

Cost-effective for exhibitors with multiple events

Can be changed to reflect different marketing campaigns
Hiring an exhibition stand is the ideal solution if you have a space-only exhibiting area and want a large-scale system to make a big impression.
You may also be interested in a more bespoke exhibition stand design made to suit any ideas you may have, so the only limit to how your stand looks is your imagination.
Key Benefits
Hire service helps keep costs down

Professional team will deliver, build and break down the stand at your chosen event

No need for storage space for your stand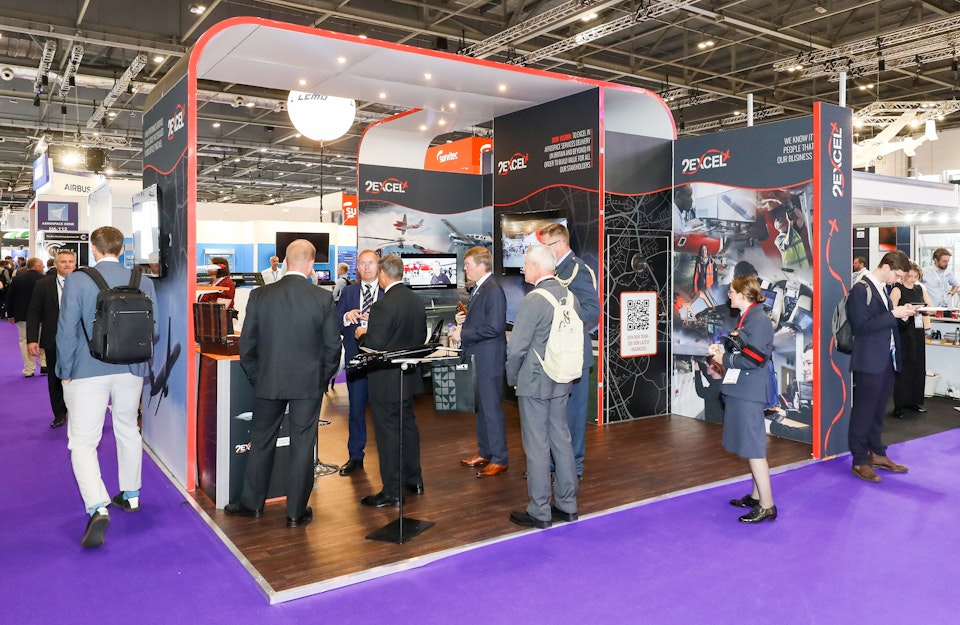 What to look for in an exhibition stand?
Ease of Assembly
Event marketing is all about getting to the venue and setting up quickly. With so many things to think about you shouldn't have to worry about how to assemble your exhibition stand.

For larger custom-built stands, professional contractors will usually be required for its assembly. 
Print Quality
There's nothing more likely to discourage attendees to visit your stand than graphics which look cheap or damaged on your stand.

Unfortunately the old saying 'you pay peanuts, you get monkeys' also applies to printed display stands with delamination, edge-curling and unsteadiness being three characteristics of cheap stands. 
Reusability
Exhibition stands can undoubtedly help increase the ROI from a show, but if you are spending lots of money on new stands for each exhibition or trade show it will affect this profit margin.

There are a number of modular stands which can change shape to fit into different-sized shell-schemes, whilst you can also make sure your branding remains relevant by not including elements which may change such as price.
What size of exhibition stand do I need?
The first thing you need to know when choosing what size of exhibition stand you need is the floorspace you have been allocated at the trade show.
There are two types of exhibiting space at these types of events:
Shell Scheme: A framework (usually metallic or fabric panelled) will be in place to separate your display from others. The back of your display will probably not be visible to passers-by.
Space-Only: There will be no framework around your stand and – depending on the location of the space – the back of your exhibition stand may be visible to passers-by.
You will purchase this space from the event organiser, common sizes include 2m x 2m; 3m x 3m and 3m x 4m although different ratios are sometimes available. It's important to check the size of your stand and that its footprint fits within these dimensions.
This is particularly important for pop up displays, where the sizes of the stand (eg. 3x3 pop up stand) DO NOT relate to the stand space but rather the number of frames. Make sure you check the product details for exact sizing.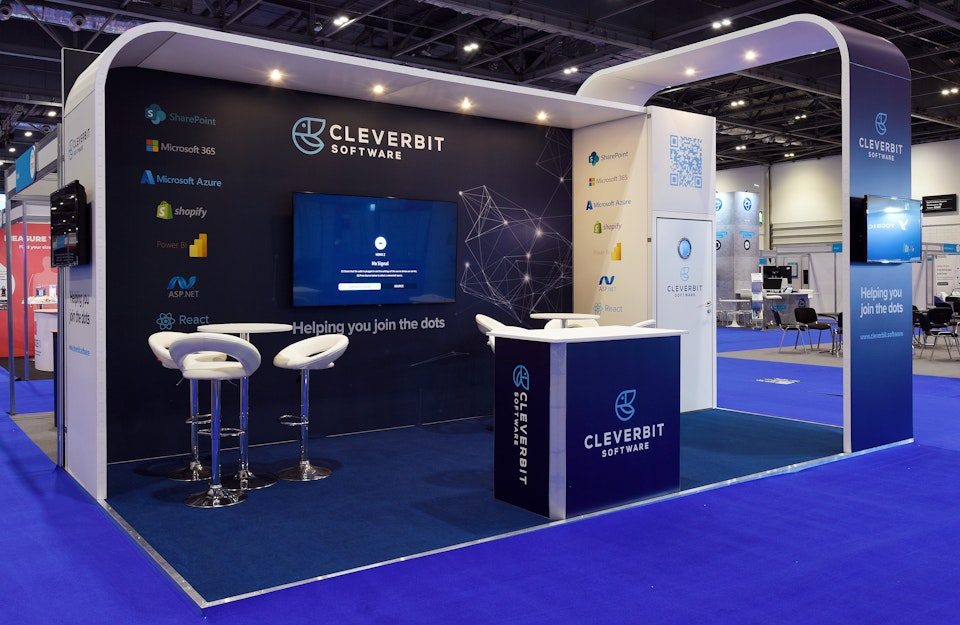 How to Design an Exhibition Stand?
There are two options for getting the artwork required for your exhibition stand: you can either supply your own print-ready artwork or purchase a graphic design service option, available on the individual product page.
If designing your own display, you should think carefully about the design and which parts of the display will be most important in relation to your stand space and position. How can your branding make clear the benefits of your organisation as succinctly as possible, grabbing the attention of passers-by.
For more info on design, see our complete guide on How to Design the Perfect Display Stand.
Which supplier should I choose for my exhibition stands?
There's only one answer to this question - Display Wizard!
Only the highest quality print materials are used to ensure consistently no edge-curling or de-lamination on our exhibition stands.

With over ten years in the industry, we are experienced exhibition stand suppliers.

Quick & cheap UK mainland delivery.
With so many display stands to choose from, it can be hard to decide. Please see our website for our full list of exhibition stands or just get in contact with us today!